The growing concern towards privacy on Android device has been increasing sharply in recent years as we almost put the most import data and asset on those devices, such as contacts, photos, videos, login details, purchase history, etc… Obviously, none of us want those data being accessed by unauthorized parties. That's the reason why we need to delete everything permanently on the old Android device we are going to sell it out.
'Simple Deletion' and 'Factory Reset' Won't Wipe Everything - Be Recovered Easily
The built-in factory reset is the most widely recommended and adopted data erasing method for most of Android users. However, there is a hidden bug laid on it if you didn't take it seriously. I found out occasionally that the data was still available by using certain data recovery software if you go with the default factory reset. It's very dangerous to get your privacy data exposed to someone who you are not familiar with. And you have no idea what he or she was going to do with the found data.
There are many Android data recovery softwares in the market can easily scan all "already deleted data" and the data from a "Factory reset" phone. See why factory reset won't delete everything on Andriod.
Here we choose any two of Android data recovery softwares to test how they scan deleted data from Samsung phone.
Test 1: Scanned out all messages and other data.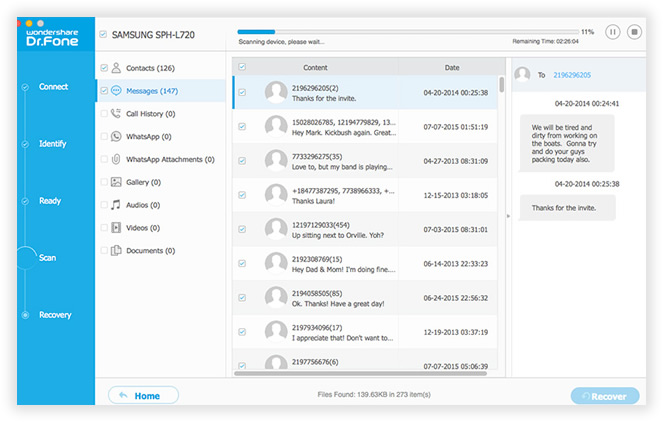 Test 2: Scanned out all messages with details.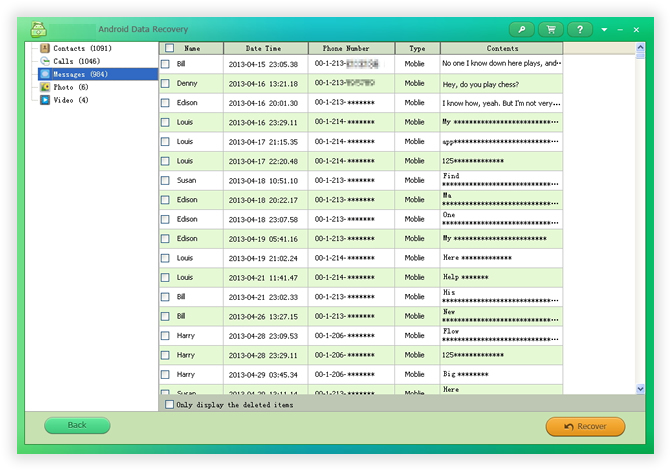 Look: This data recovery program is deeply scanning all the data from Android phone and easily recover them. Don't worry, there is still a reliable to wipe your Android data without recovery. So let's take a look down.
Solution: How to Permanently Delete Everything on Android Phone
The deleted data is still available unless it was over written by others. It's pretty hard to get it done manually, but it can be easy with the help of automation programs.
Android Data Eraser is a powerful erasing tool designed for Android users. It writes a random of digits to existing data to make it unrecoverable. What's more, it repeats the process multiple times so that none of the data recovery software can gets a piece of data from the device. 3000+ Android Smartphones and tablets are supported by the program.
Step 1

Install Android Data Eraser on a Computer

You have to install the program before you can do anything about data erasing. The download link is available from above links, which supports both Windows and Mac computers. The installation is as simple as you can imagine. Only a few mouse clicks are needed. The main screen of the program is shown as follows: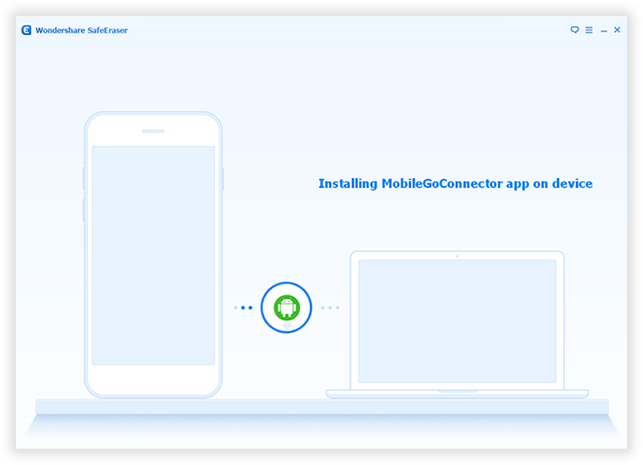 Step 2

Connect Android Device to PC and Turn on USB Debugging

Plug your Android phone or tablet to the computer through USB cable. The device will be detected in seconds once it was connected and recognized by the computer. After detection, the program shows name of the device found by it. If nothing happened, please make sure Android USB driver is well installed.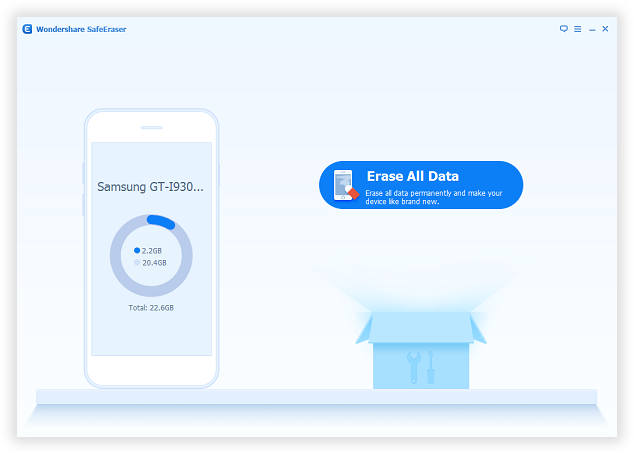 Step 3

Select Erasing Option

When the primary window appears, click "Erase All Data". This brings up the data erasing window. As you can see from the screenshot. It also can erase photos from Android. You will be asked to type 'delete' word to let the program work.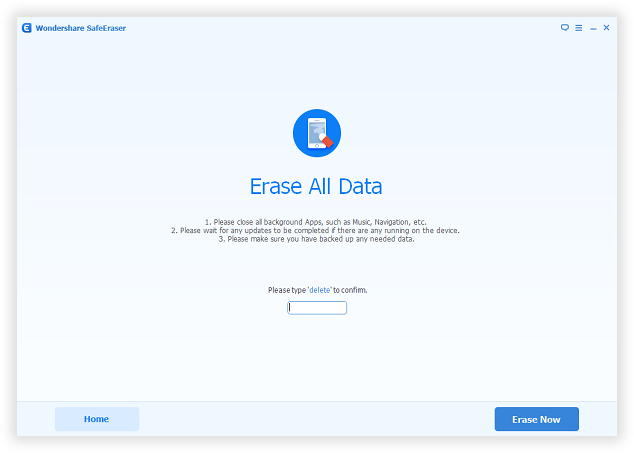 Step 4

Begin to Erase Your Android Device Now

In this step, everything is set up well and the program will start wiping the device once the operation is confirmed. So please make sure all your data is backed up. If not, you can use the program to back up your device first. It will take a while to complete the task depending on how many files stored on the device.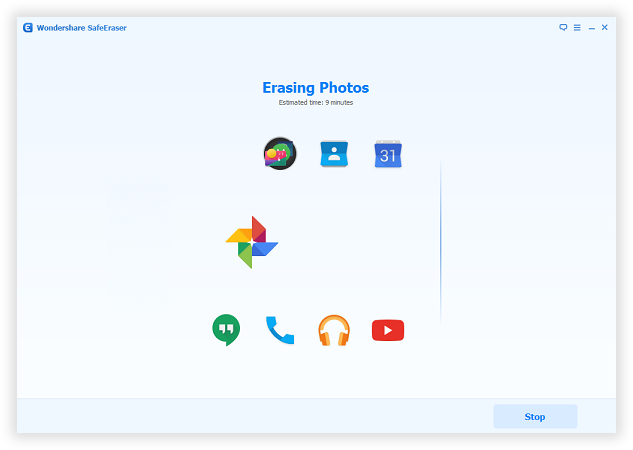 Step 3

Finally, Don't Forget to 'Factory Reset' to Erase Your Settings

Finally, after the erased your phone, there is no any data recovery programs can scan and recover your wiped data. But it's necessary for you to perform a Factory reset for your Android device to wipe the system settings completely.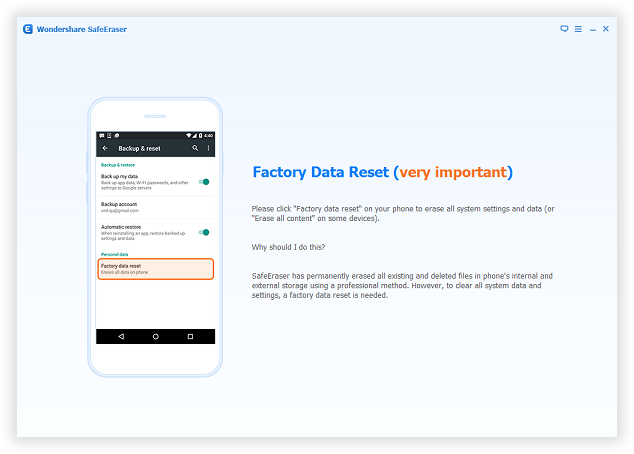 When the data was deleted by the program, there is no chance to get them back because of the sophisticated algorithms adopted by the program. The traceable footprints have gone forever and no longer available by any data recovery software sold on the market place. Beyond this powerful function, it also provides a few other useful tools, like phone transfer to help you transfer content between different mobile devices plus a complete backup and restore option. After testing, we have to admit that this Android Data Eraser program is really a must-have tool if you changed your Android device frequently.