In the age where every month new smartphone models are being launched, we as a user tempted to get our hands on new ones. A few of us cannot frequently buy due to budget constraints, but many of us do buy new phones frequently to enjoy the new features in the new phones. And, when you buy a new phone, probably you would like to sell your old phone so that you can recover some cost that you can use to pay the some portion of the cost of your new phone. I am sure you might be doing the same because I have been doing it since long. I am a gadget freak guy who loves to try his hands on recently launched devices. Whenever I plan to buy a new phone, I do sell my old phone which is good to get some money back.
But, do you know that it's important to delete all of your data like text messages from Samsung Galaxy before handing over to someone else? Below are three ways you can delete messages from your Galaxy or Note phone before selling it to anyone.
Part 1: Manually Delete Messages from Samsung Galaxy (100% Recovery)
Manual Deleting:
You can delete the messages and other data manually which may take a little long time. But, at last you will be able to clean up all the messages. But, you should know the risk that when you delete the data manually, the messages actually don't get wiped out completely. Yes, they are still on the phone's storage that an expert geek can recover easily using some tools.
Dangerous:
In many experiments, the test results show that the deleted messages or other data can be very easily scanned out and recovered by some common Android data recovery program. You can see how it scans and recovers in the image blow.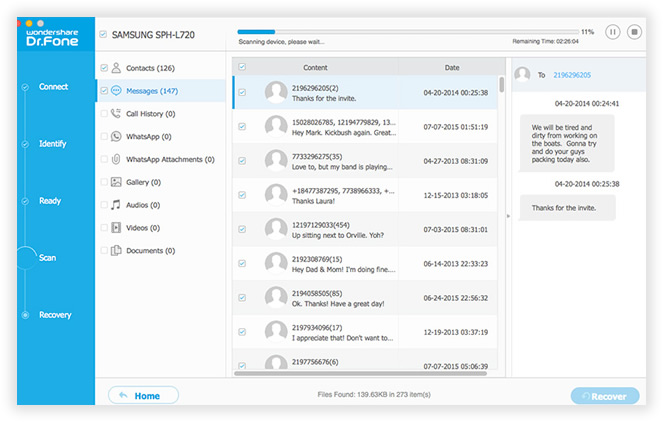 It is unbelievable? but it's true and easily to recover your deleted files form Android phone. So, to make your messages unrecoverable, you need professional Android data eraser to destroy your messages.
Method 2: Delete Text Messages on Samsung by 'Factory Reset'
Factory reset is one of the most preferred ways of resetting the phone before selling the phone to someone else. It ensures to delete everything from your phone, and it is reset to the state as it came to you when you first purchased it.
Step 1. On your phone's home screen, Tap the Home Button.
Step 2. Now, you will see the apps on the screen, you now need to tap Settings.
Step 3. Now, you will see the screen from where you can change the settings of the phone. You have to tap the Backup & reset
Step 4. Tap on Factory Data Reset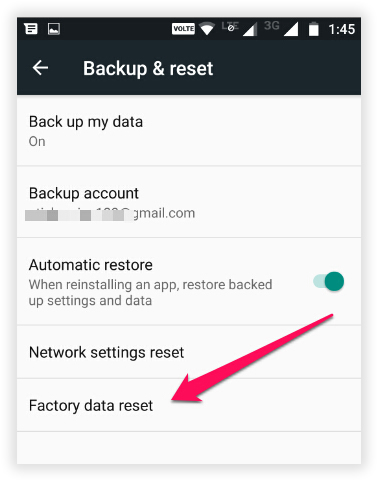 Step 5. You will be prompted with the warning that doing this will delete all the data on the phone.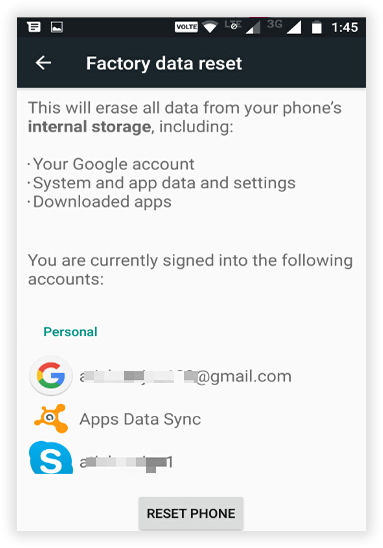 You only need to tap the button Reset Phone, and resetting process will be started. Moreover, before tapping the button, if you scroll down, you can scroll down, and you will see the option to check whether you want to erase the SD card data too. If you want you can select that too, and then tap the Reset Phone button.
Alert:
Factory Reset doesn't completely wipe out the data from your phone, and they can still be recovered using some tools. Few security companies did a test by buying the old phones, and tried recovering the data from them, and they were able to recover the data from 95% of all phones. They did find some of very personal photos which if made public; the person can be into problem. You might have saved some important password on your phone in the message box or somewhere, and later if someone recovers it, he can peek into your bank account and steal your money.
There might be many bad and horrible consequences if someone recovers your old data. Some of the guys suggest you to encrypt the phone by going to setting before you reset the phone which is a good try but still that is still not safe as decryption key is also left in the phone which can be recovered first, and then it can be used to decrypt the data.
So, I won't recommend doing only factory reset if you are selling your phone to some unknown person. In the next method, I am mentioning the solution to this which you must need to use to reset your phone.
Method 3: Completely Erase Text from Galaxy with Safewiper for Android
Above two methods are good but they don't guarantee about recovering the data and messages. The messages and other data can be recovered using some tools. You don't know the guy whom you are selling the phone; maybe he can recover the data and check out your personal messages and data. If he is a notorious guy, he may do something bad to you using those data. Therefore, it is important to have something that wipes out the messages and the data from your Samsung phone completely, and make them unrecoverable.
In this situation, you can use professional data wiping software - Safewiper for Android which wipes out all the data from your phone making them completely unrecoverable by any means.
Deeply scan all your "already deleted" messages and "Factory reset" device from Android devices and then completely smash them.
Wipe your sensitive data with advanced algorithm which overwrites your data with 7 times.
Supports various file types, including WhatsApp,Messages & Contacts & Photos & Videos & Audio
Supports all Android devices like Samsung Galaxy S7/S6/S5/ Note, LG, HTC, Sony and more.
Download it here and try to delete SMS from your Samsung phone.
Step 1

Install Android Eraser on A Computer and Connect Your Phone

Before beginning, you need to download and install the program on your computer, then connect your Samsung phone to PC via USB cable. Then enable USB debugging on your Samsung phone, then t he program will recognize your Samsung device automatically.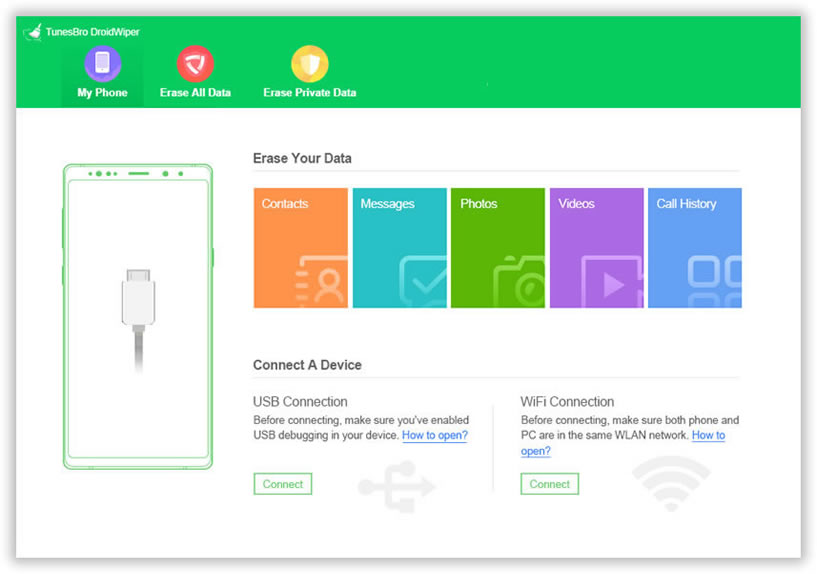 Step 2

Select the Feature of 'Erase Private Data'

Once your Android phone was recognized successfully by the program, it will analyse  all data on your Samsung phone. Then just select the wiping mode "Eraser Private Data" from the main screen, it will deeply scan all the "deleted" and existing files .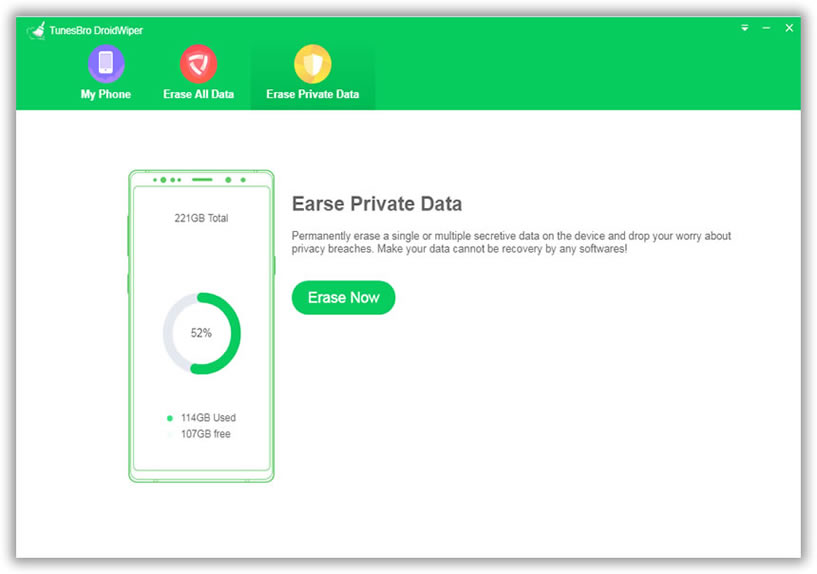 Step 3

Confim to Erase Your Messages and other Data

After you select the wiping mode, then click Erase now button to start the wiping your messages. You need to select a wiping level. Then click type the Delete button.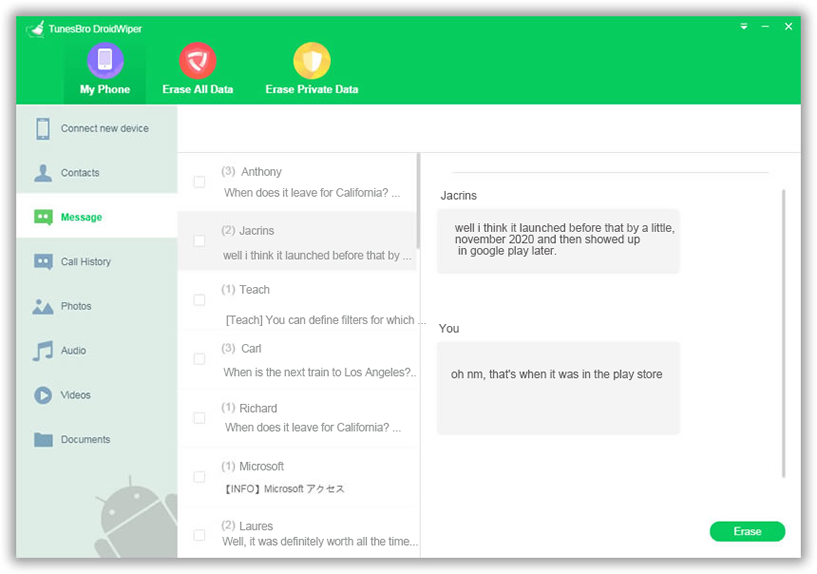 Step 4

Select Security Level and Confirm

Here you need to type "Erase" word into the box, and select the Security Level option, the program offers three erasing option for your choice, each option uses different erasing algorithm.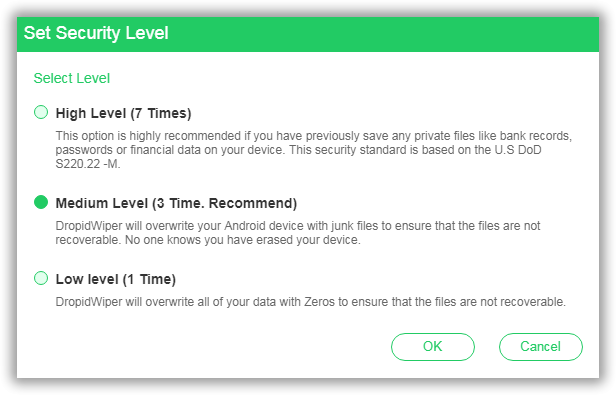 Step 5

Start to Erase Messages on Samsung Galaxy Phone

Then it will take minutes to erase your messages completely, don't disconnect your phone. Then ,you will get a totally new device.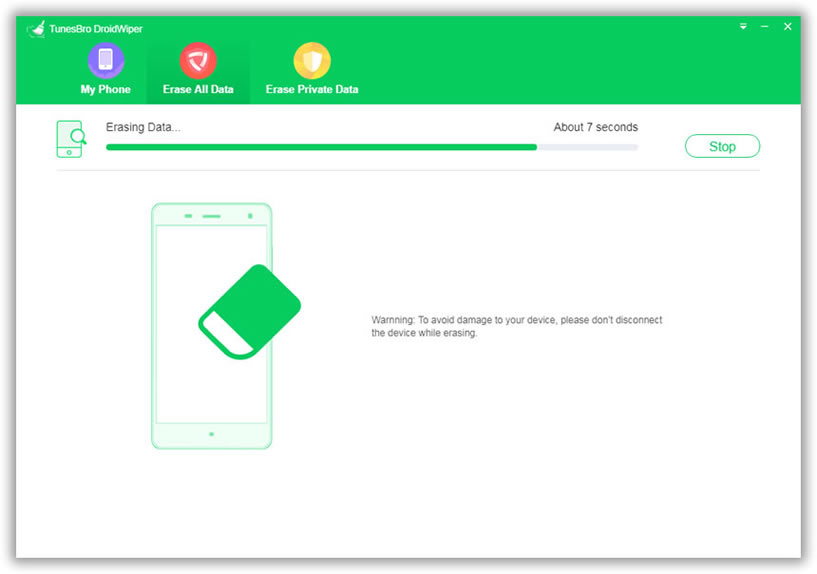 Conclusion
However, this effective program is fit for erasing whatever, whether photographs, contacts, applications, passwords, client recognizable proof, framework settings, features, bookmarks and numerous different things. The fascinating thing about this application is that it has different cleaning modes that are especially to clear the Android totally.
Therefore, if you are selling your phone to some unknown guy, make sure you erase the data with Samsung Data Eraser tool only as it assures your security and confidentiality. I am sure you know how to wipe out the messages and data from your Samsung phone before selling it to anyone. First two methods are fine, but I would recommend the method three since it makes the data unrecoverable.