If you are an Android user then you must know that every Android user will have to link their Gmail account with their phone in able to use all Google Services including Google Play Store, Google Drive, G+, YouTube and so on. But if you are upgrading your phone and want to sell or giveaway the old smartphones that you own then you must delete your Gmail account from it as it contains all the private information you own.
If you have linked your Gmail account with your phone then you will be able to send and receive emails and sync your phone with it. Android phones create backups to their Gmail account when you sync it that includes contacts, application, music, photos and so on. So, if you are selling or giving away your phone then you must delete Gmail account from it or else the new owner can easily access to all your private data and can misuse them.
Part 1. Consequences of Deleting Gmail Account from Android Phone
Deleting Gmail account from your Android phone is not a very hard task but still it is one of the most essential part if you are selling your old smartphones. First, you must know what will happen if you delete Gmail account from your phone and understand the consequences because removing Google account may interrupt all the services that are linked with Google including Gmail and Play store.
1.You won't be able to use any Google services including Gmail which means you won't be able to send and receive emails.
2. You can no longer install applications from Google Play Store. Plus, whenever you try to open Play Store on your phone, it will ask you to first link a Gmail account with it. So you can no longer access Play Store at all.
3. You will lose all photos, music, videos and other data that you have synced with your Gmail account.
4. If any bookmarks or browsing history were made in Chrome then they will be deleted as well.
5. You will no longer be able to use YouTube and will lose all your favorite preferences.
Hopefully, you have understood the consequences and ready to remove Gmail account from your Android phone or tablet. If you are fine facing those consequences then move on to the next part where we will show you how to delete Gmail account from your phone.
Part 2. How to Remove Gmail Account from Android Phone or Tablet?
In this demonstration, we will take a Nexus phone as an instance and will show how to achieve this task. The procedure will be same on every other Android phones or tablets, so you can use these steps to remove Gmail account from your phone.
Step 1. Open Menu and swipe through the options and click on "Settings". Alternatively, you can swipe down from the top on your home screen and click on little gear icon on the top right corner and you will be able to open the settings of your phone.
Step 2. Scroll down though the options and find Accounts and tap on it once.
Step 3. Here, you will be able to see all the accounts that are linked with your phone including Gmail, WhatsApp, and Facebook and so on.
Step 4. Tap on Google and it will show all the default preferences set by the user.
Step 5. Tap on the menu icon and click on "Remove Account". After that you will be able to see a pop up dialogue box that will ask you to confirm to remove the account from your phone. Click on "Remove Account" again.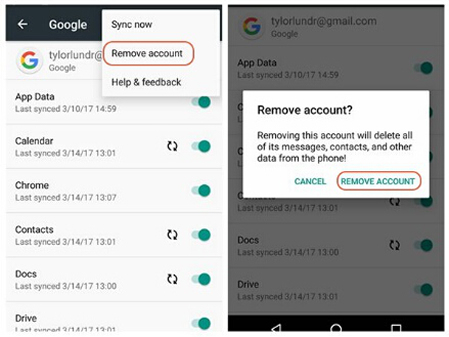 Step 6. That should be it. The process is pretty simple and no technical knowledge is required. In some other phone, you may have to navigate through more options but more or less, the procedure is same on every android phones and tablets. You can relink a Gmail account on your phone later if it is required by clicking on "Add Account" and login with your credentials.
Part 3. How to Completely Erase Data on Android with SafeWiper
There are many Android users used to remove private data by simple deletion or factory reset, however, Deleting and factory resetting won't be far enough to permanently erase everything from Android phone, the data may still be stored in your phone's memory and can be easily recovered by some data recovery.If you wish to be completely sure that the data is fully unrecoverable, you should use professional data eraser for Android.
100% destroy your personal data from Android phone beyond recovery.
Built-in 3 wiping modes: Erase All Data, Erase Private Data and Erase App Data.
Use advanced algorithms (Dod 5220-22.M, US Army, Peter Guttman) to completely wipe data.
Supports all popular Android phone and tablets like Samsung, LG, Sony, HTC, ZTE, Huawei, Moto.etc.
Download and install the program on your computer, then connect your phone to PC via USB, then launch it. The program will identify your phone. You will see it offers three erasing options, such as "Erase All data", "Erase Private Data" and "Eraser App Data". Below, we choose "Eraser Private Data" for example. It will scan all data on your phone.
Don't miss: How to completely delete text messages on Android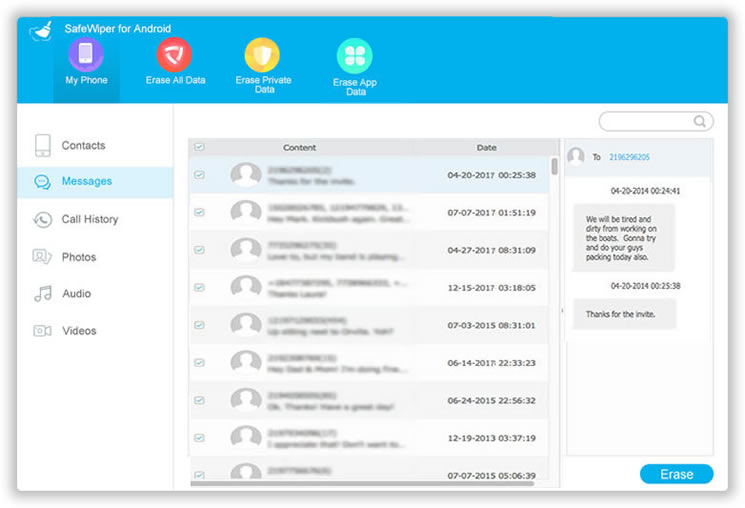 Select the data you wan to erase, and click "Eraser" button, a windows will pop up asking you to confirm your option. Just type "Erase" world in the box, you can also select the Security Level.
Now, if everything is set up well, then click Erase button to start. It will take a while to complete the task depending on how many files stored on the device. After erasing, you will get a new device.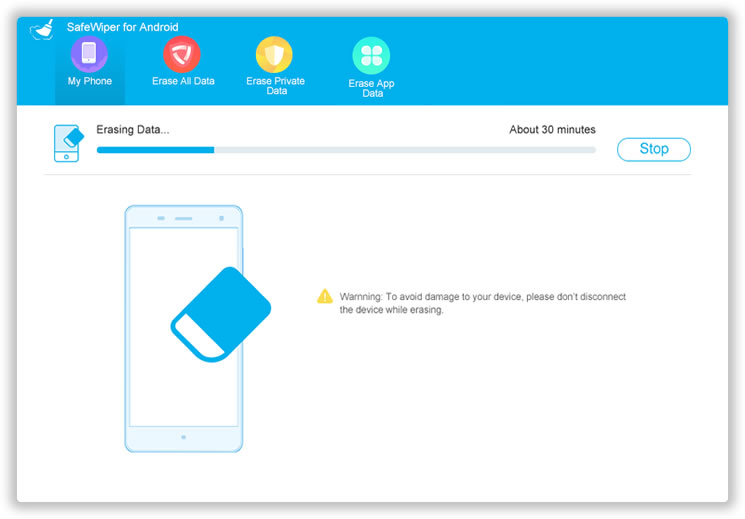 You can download it and give it a try!
Conclusion:
Removing Gmail account from your Android phone is required if you are selling the phone or giving it away to someone. It is important because Gmail contains all your private and personal information that you don't want other to access. Moreover, if you forget to remove Gmail account from your phone then the new owner will be able to use all the services that are linked with Google.
After you have removed the Gmail account from your phone, it is recommended to cross check by opening some Google Services like Gmail or Play Store just to make sure they are not accessible anymore. If you are not able to use any of those services then that means the Gmail account has been successfully removed.