One should always format their Android devices on two conditions: first if you are trying to sell or donate your phone so that the new owner can't glance on your personal details and second, if you feel your Android phone is performing slower than before to speed it up again. It doesn't matter for what reason you are formatting your Android phone, one should always keep their phone up to date by resetting it time to time.
When we say formatting Android phone, it simple means that you are erasing the multimedia files, contacts, messages, documents and other private stuff and not the operating system itself. Your phone will still function properly even if you format it but obviously all the customization will be erased. It is also recommended to format your device if it is attacked by virus or malwares or if your phone behaves abnormally.
In this guide, we will recommend two exhilarating ways to format Android phone but first we will recommend to learn how to backup your Android phone before proceeding with the mentioned methods below to avoid any data damage.
Part 1. Format Your Android with Factory Reset
As we mentioned earlier, factory resetting Android phones simply erase all the data from your phone and it will take your phone back to the factory state. But remember, it will not harm your system and it won't defect your phone. Here's how to factory reset any Android smartphone.
Step 1. Tap on Menu and find Settings.
Step 2. Choose "Backup and reset" under Personalization section.
Step 3. Scroll down to the bottom and tap on "Factory data reset"
Step 4. Confirm all the details and tap on "Reset Device".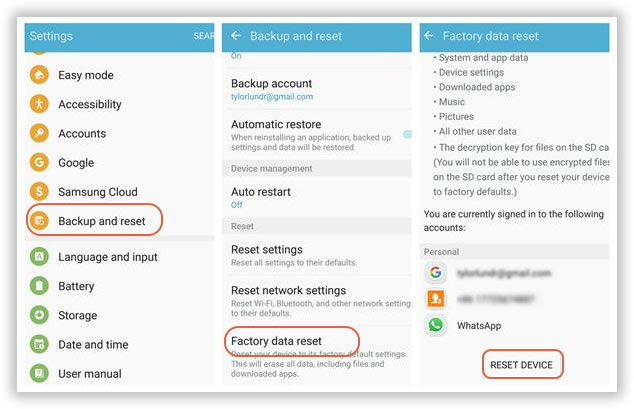 That's all. Just wait until the factory reset progress is finished successfully and you should now have a clean and clear phone.
Dangerous:
1. 100% Recovered by most Android Data Recovery Softwares.
2. Don't use this method if you are selling or trading your phone as the deleted data can be restored effortlessly.
3. Improper factory reset may cause system crash.
Test 1: Let's see how Android Data Recovery softare recovers your data
Ther are many free Anroid data recovery software online that can easily scan all of your erased data and recover them. Just one click, everyone can retrieve messages and other data.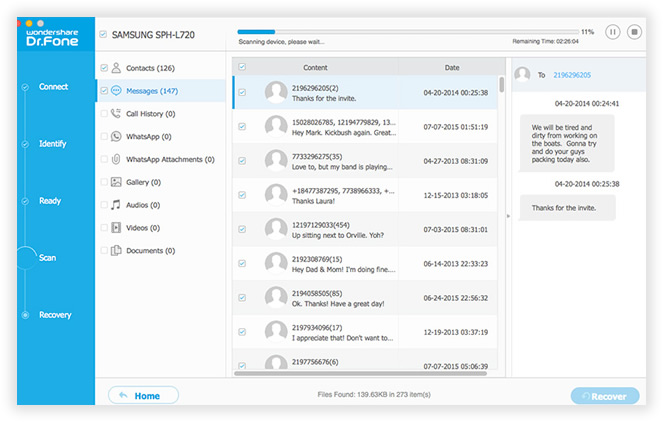 To completely destroy your sensitive data, you'd better see the Part 2 below.
Part 2: Format Android Phone with SafeWiper for Android
The safest way to wipe out an Android phone before selling or giving away to any other person is to do it with a commercial Android Data Eraser. The fact is even if you factory reset your phone, if any hacker has access to a professional data recovery tool then they can retrieve all the deleted data from your phone and misuse them. Imagine if your private pictures or confidential data such as messages, contacts, documents, etc. are exposed to some spammer or hacker then certainly, they will totally destroy your reputation. That's why SafeWiper for Android makes sure that any data deleted with this tool can never be recovered ever again.
Helps to wipe out both internal and external memory storage unit with 0% recovery chance.
3 erasing optino: Erase All Data, Erase Private Data and Erase App Data.
Use advanced algorithms (Dod 5220-22.M, US Army, Peter Guttman) to completely wipe data.
It works with over 5000+ Android smartphone models including Samsung, Sony, HTC, Google, Motorola, etc.
Download and give it a try!
How to Completely Delete Text from Android Phones without Recovery
Step 1

Install Android Eraser and Connect Your Phone to PC

Step 1. Go to the official Safewiper website and download the trial version of the data erasing tool. Then install the software and run it for the first time on your computer. Connect your Android phone to PC via USB data cable wire and wait for the software to identify it.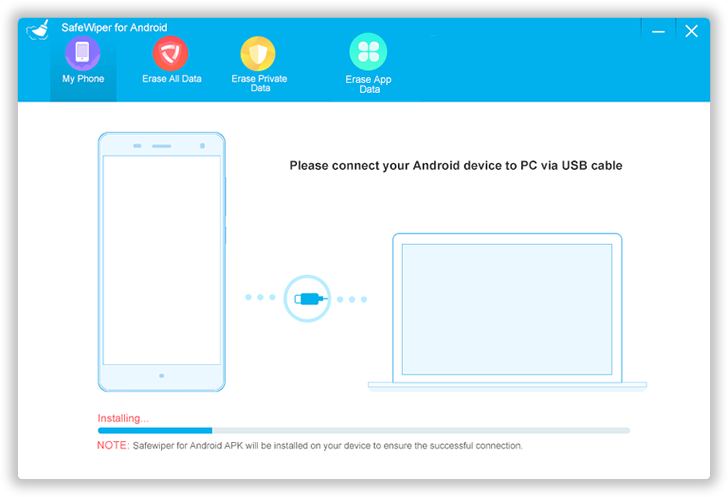 NOTE: You need to enable the USB debugging mode.
Step 2

Select "Erase All Data" Wiping Option

There are three data erasing plans available but the recommended plan would be "Erase All Data" or "Erase Private Data" if you are getting rid of your device.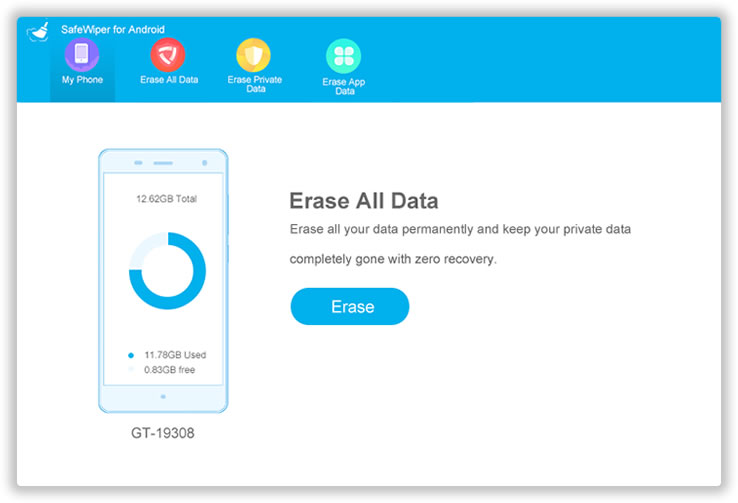 You can also separately erase some data like text messages, photos, call history or contacts.
Step 3

Type the 'Delete' to Confirm Your Erasing Operation

 Let the program scan the Android phone and after the monitoring process is completed, the software will show all the items from your phone in their respective category folders. Type the 'delete' word to let the program start to work, then click the 'Erase Now' button to begin the erasing process.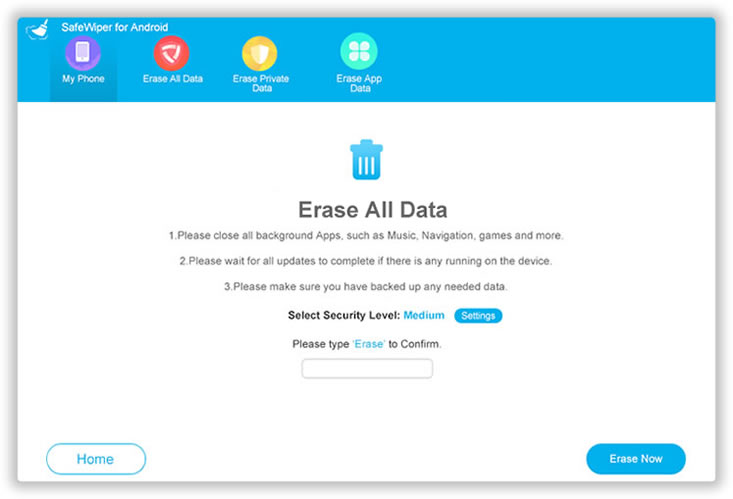 You can change the security level by clicking Settings button, there will a window pops up and shows three data wiping option for your choice.
Step 4

Start to Format Your Andriod Phone

The program will wipe your Andriod phone completey, wait for a moment and keep your phone connected to PC always. When the erasing is done, your phone will reboot and all your data was gone forever.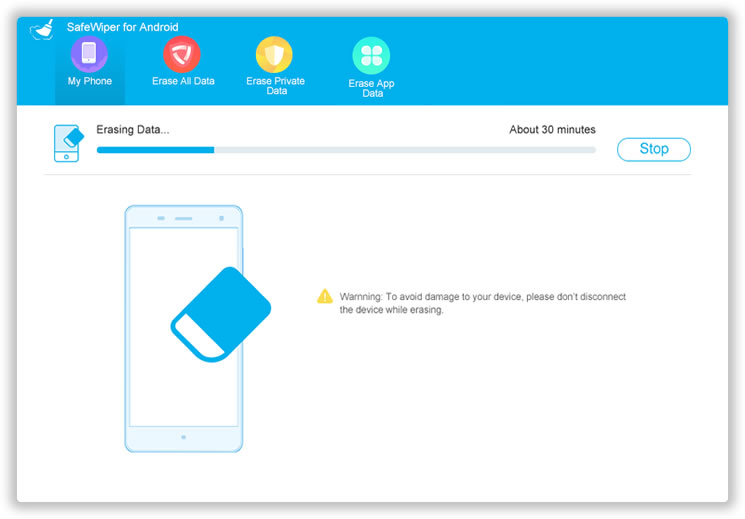 In this tutorial, we have shown how to format or reset Android phone in 2 hilarious ways but we will recommend choosing factory reset for personal purpose only and using SafeWiper for Android if you trade your phone very often. It is a life saving tool that can save you from lots of troubles than you can even imagine. Personal identities are stolen every single day from second devices, so you must destroy every data from your phone permanently to maintain the privacy and security of your identification.