Planning to switch to the brand new iPhone 8? Upgrading your Android phone with OnePlus 5 or Samsung Galaxy? Well, it's a great time to give your lifestyle a new look with a fresh new smartphone. But, what to do with your old device? Well, you can either donate it to someone less fortunate or you can sell it to get some money back. However, first you will be required to wipe or erase everything on your old Samsung Galaxy phone before handing it out to anyone.
Most people simply factory resets their phone or delete everything by using the simple deletion technique but did you know that a simple factory reset can't actually erase everything permanently? That's correct, any hacker or computer expert can retrieve your deleted items with a data recovery tool and completely screw your credibility. That's why, in this tutorial, we will demonstrate how to wipe your Samsung galaxy phone and tablet so that no one can ever recover them.
Method 1: Factory Reset Your Samsung Galaxy Phone (Recoverable)
Another way to reset your Android phone is to do it from the Recovery Mode. Every Android smartphone has this feature by default in case you need to reset your phone if it doesn't turn on. It requires some special tricks to enable the option that can be accomplished by following the below steps.
Step 1. Reboot your Android phone by pressing Home, Volume Down and Power buttons simultaneously.
Step 2. As soon the logo appears on the screen, release the volume down and power button but keep pressing the home button to enter into recovery mode.
Step 3. You will be seeing a lot of options and use the volume up and down buttons to navigate through the options. Choose "Factory reset/wipe data" and press the home button to select it.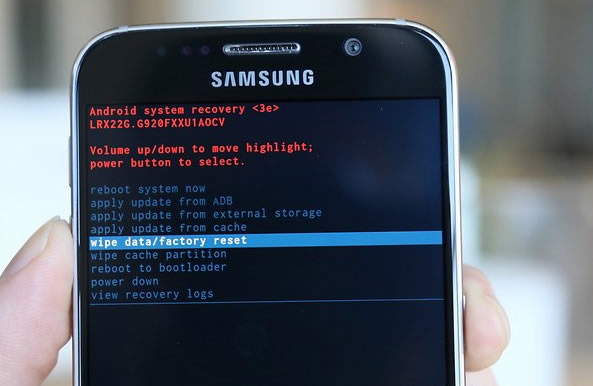 Your phone will automatically attempt to reset itself and once it is finished, your phone will be rebooted with the welcome screen.
From a technical point of view, the default factor reset feature built-in in Android may not be enough to permanently wipe personal data on your Samsung device, in our test, we were using readily available data recovery software to get all wiped data back,in fact, the wiped data still stored in the memory and not wiped really.
You can see how it scans and recovers in the image blow.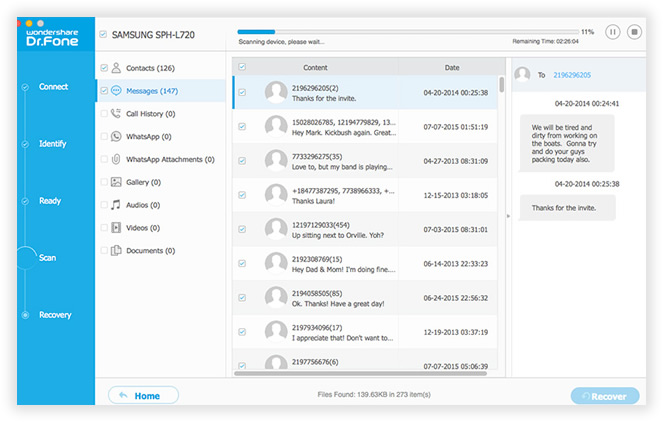 Because the right software can rebuild data and easily recover them.The only way to prevent somebody from recovering your personal data is to destroy data completely with professional data wiping tools, that's SafeWiper for Android in the Method 2.
Method 2: Wipe Everything on Your Samsung Galaxy with SafeWiper
Obviously, if you are selling your device to a total stranger then the above methods are not recommended because your personal deleted items like pictures, documents, videos, etc. Will be easily recovered and if the person is a hacker then they might use it against you to destroy your credibility and reputation. In that case, you must use a professional Android Data Eraser to permanently remove everything from your device.
Safewiper for Android is the exact tool that can help you with that. It is a very powerful and efficient Android data erasing tool that can destroy every data from your file like a shredder shreds the paper, making youro private data completely unrecoverable by any means.
100% permanently destroy everything from Android device, make the deleted data unrecoverable!
Wipe your sensitive data with advanced algorithm which overwrites your data with 3 times.
Supports various file types, including WhatsApp,Messages & Contacts & Photos & Videos & Audio
Supports all Android devices like Samsung Galaxy S7/S6/S5/ Note, LG, HTC, Sony and more.
Download it here and try to delete SMS from your Samsung phone.
Step 1

Install Android Eraser on A Computer and Connect Your Phone

Download the compatible version of Safewiper for Android on your Mac or Windows computer and install it by completing the installation process. Next, launch the program and connect your device to PC with a USB data cable.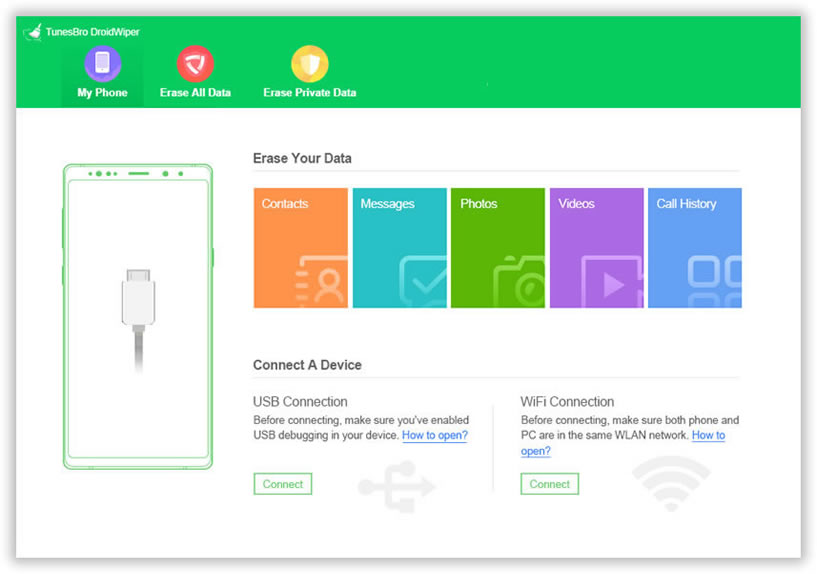 Step 2

Select the Wiping Option

Your phone should be recognized by the program and it offers 3 amazing ways to erase everything from your device. If you are completely wiping out your device then choose "Erase All Data" and let the program scan your entire device.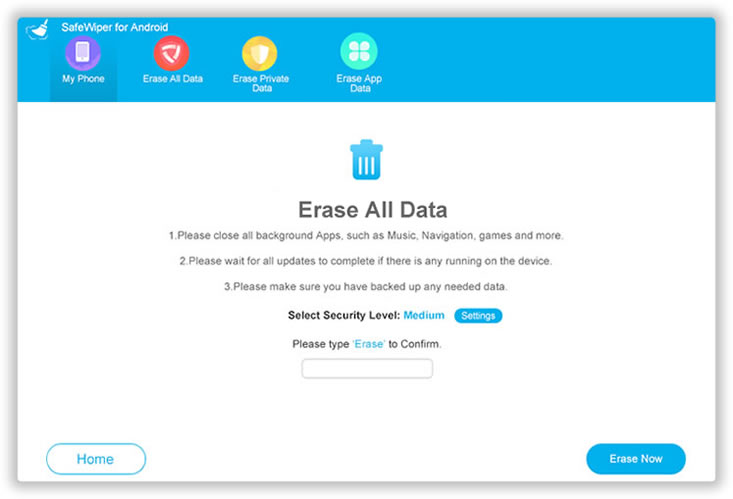 NOTE: You can also separately erase messages, photos, call history from Android phone.
Here you also can select the Security Level by clicking the "Settings" button, it provides three wiping level for you choice, the higher you choose, the more wiping time it will take. We generally recommend choosing Medium level.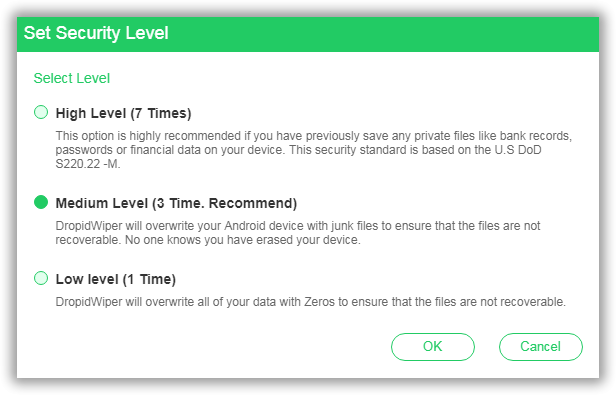 Step 3

Start to Erase Messages on Samsung Galaxy Phone

Then it will take minutes to erase your messages completely, don't disconnect your phone. Then ,you will get a totally new device.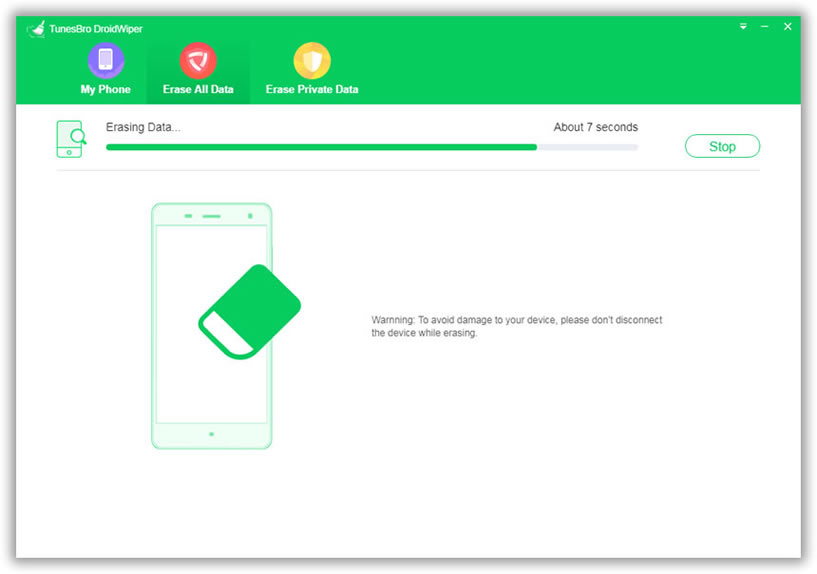 Conclusion
Protecting your privacy and security is something that you should not take lightly. Most documents and data are stolen from used Android phones by hackers with data recovery tools and are severely misused. Fortunately, Safewiper for Android is immune from data recovery tools and it is guaranteed that no data can be ever restored. So, before using this tool, make sure to have a total backup of your phone or else you will lose everything from your device.