If you forgot iPhone Passcode, and you enter the wrong Passcode around six times incessantly in a row, then the message "Your device is disabled" is supposed to be shown that very moment.
Afraid to lose the ownership of all the contents stored in your iDevice? Don't fret; various possible remedies have been espied along with the launch of iDevices so far. Now it's up to you to choose any one of them from the ways elaborated in this article since all of them would work out your trivial Passcode situation.
Part 1. Unlock iPhone Passcode with Factory Reset
If somebody claims mockingly that factory reset is no good to set things back to normal for you lose most of your valuable data off your clench, well he cannot be completely wrong. Though factory reset is a complete wipe out of a system, but when you have no other option to work around, this is the only choice to pursue to unlock your device. Unless you've made a backup for your device before you forgot a passcode. The way to factory reset is quite old and very much resembles to the factory reset of Windows computer. You must wonder, how? So to answer the question
Step 1. Let's open up the "Settings" app first and press "General" tab. From the new screen, scroll down below to find and tap on "Reset" option.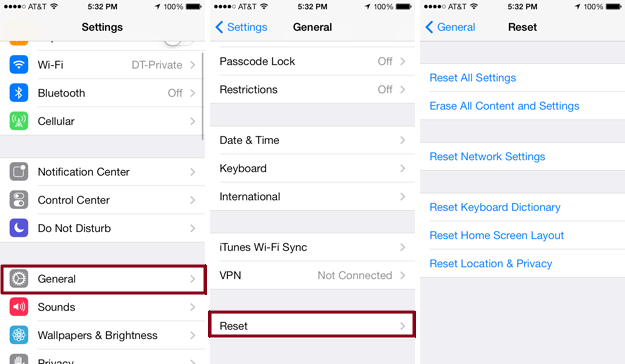 Step 2. Get ready to press the "Erase All Contents and Settings" button. From a pop notification, select "Erase iPhone for confirmation to remove the contents.
Step 3. So once the removal process gets over, you will be asked to enter your Apple ID which on providing, the reset process would be completed and there you go. After taking about 3-5 minutes you will be available with a screen prompting you to swipe to continue.
It's all done. No hassle, no use of third party tools and your iPhone is unlocked, though at the cost of losing what you had in store previously. Ok, so now if you don't want to lose your valuable belongings, then I presume this method will not be the proper yielding ground for your solution. We have availed something else in your favor to avoid factory reset which you will get to know the next method.
Demerits:
1) Your valuable data will be removed from your iPhone at the cost of unlocking the Passcode which is not beneficial every time.
I2) It is a very outdated and traditional method not suitable for all situations.

Part 2. Unlock iPhone Passcode without iTunes using iCloud

Very much similar to iTunes, iCloud is also a cloud server supported by Apple Corporation. If you have forgotten your iPhone Passcode, and the "Find my iPhone" is working on your device, then iCloud server can be used to unlock your iPhone. You can later on restore the data as per your wish.

Step 1. To start with this procedure, you first need to visit iCloud.com, the official website and access your iCloud account with your login credentials.

Step 2. Now simply go to the "All devices" section and click the erase button to erase the name of your iPhone device which is currently locked. With the removal of the device name from the list, the Passcode is also erased which was out primary concern.

You will find your device erase itself remotely and everything will be erased including the passcode. But you can choose restore from an icloud backup if you have one.

Part 3. Unlock iPhone Passcode without iTunes using LockWiper

SafeWiper LockWiper is a wonderful Passcode removal tool for iDevices. If you have been somewhat disappointed by the last three methods, the usage of this utility will compensate surely your loss. But it is better to know the tool's feature properly before knowing its working.

It can unlock 4-6 digits Passcode, as well as Touch and Face ID.
It can work well with broken, disabled lock screens as well.
 Supports all the versions of iOS including iOS 12 beta/ iOS 11.4 and iPhone X/8.
Unlock Passcode on iPhone in only 3 simple steps.

Step 1. Before you begin with this tool, create a backup of your iPhone as your contents will be erased completely. Install the tool on your computer and launch it. Click on "Start" button from the main screen.

Step 2. Connect your iPhone to your computer using USB cable.

Step 3. Choose your particular device once it is recognized by iMyFone and then put your iDevice to DFU mode. If you fail to put it in DFU mode, then first click on "put your device into Recovery Mode", select your device and follow the instructions displayed on screen to put into DFU mode.

Step 4. Next check your device model and then click on "Download" to download the Firmware package compatible to your device model.

Step 5. After the download, click on "Start to Verify" button.

Step 6. Finally click on "Start Unlock" button to initiate the unlocking procedure.

Step 7. Read the notification shown on screen carefully before you enter 0000 and then click "Unlock". Your Passcode will be successfully unlocked in few minutes.

After the unlock is complete, please check if your device can start, if not, please try again.

Part 4. Unlock iPhone Passcode without iTunes using SIRI

Those who have been staunch users of iPhone and other iDevices surely must have marveled upon this wonderful virtual helper, so often called as SIRI. You ask anything you want; SIRI will answer all your queries without a break. Isn't that great? So if you know exactly as to how to maneuver SIRI in your favor, you can easily get the token to unlock your iPhone with it.

Step 1. Begin you way by first pressing holding your iDevice's "Home" button until the SIRI is activated. Ask any random question, for instance, "What is the time SIRI" and you will be shown a clock on the screen telling you the exact time.

Step 2. Now when you will be directed to another screen, add another clock from there.

Step 3.While choosing the city, type in text randomly and press "Select all" button.

Step 4. Tap on "Share" button from the sub-menu that follows.

Step 5. Tap on "Message" icon to save or draft a new message.

Step 6. So now here in this new messaging Window, type anything in the "To" field, and tap the "Return" button underneath to save the message.

Step 7. Next tap on "Add icon" button and you text turns suddenly green.

Step 8. Choose "Create new account" button off the new window. Tap next on the "add photo" button and select any photo from your phone gallery.

Step 9. Wait for few minutes, and then finally press the "Home" button again and you will be displayed the home screen without any Passcode inquiry just like before since the Passcode security has been disabled.

Conclusion:

I hope you have liked the article which is very much of a guideline simulation rather than an article as such, and I guess that is what you need if you are stuck with your locked iPhone device. Try each method one by one, and especially the last one using SafeWiper LockWiper which is the most reliable methods of all, that are mentioned. If you still fail to drool inside your device irrespective of all the mentioned methods above, then you must take the matter seriously and escalate it to the Apple Service Centre immediately. The experts of the field can handle the condition in a better way.