The memory card serves as one of the most crucial accessories that you almost cannot do without. Whether you want it for your smart phone or the pen drive to insert in your windows PC, it is a necessary storage device that is an absolute must for all those who intend to keep large files that includes pictures, movies, songs and other important data. Now there may be chances where you want to do away with it and sell it off or give it to someone. Considering the amount of information laden on your drive, it is completely unsafe to be handed over without making sure that all files are permanently deleted.
Deleting files completely is not a simple task and information is either retained by the recycle bin which most of us forget to clean up or is stored in the internal memory of the drive which you cannot see. Hence it is always best to ensure that you have been able to entirely get rid of all the information which may contain personal pictures, data and videos. You definitely do not want such private information in the hands of third parties. Therefore clean up memory card before someone else becomes the owner of your personal files.
Several software are available to ensure the permanent erase of files and other information on memory card on Mac, however since there are so many it is often difficult to make the right decision. Go by the choice where you will not have to go through complicated methods and get mixed up in details and end up compromising more of the system and fail to delete the files once and for all. Safewiper Mac Data Wipe for instance is easy to use software that will take care of your issues in a jiffy and ensure that you have a clean memory card to start over with, it also be able to delete photos from SD card without recovery.
Tutorial: How to Completely Erase Data from Memory Card on Mac
Step 1

Install File Wipe Proram on a Computer

This Safewiper Data Wipe program works on both Windows OS and Mac, download and install it on your computer, then insert your memory card in the PC, run the program and select the Memory card that needs the permanent clean up.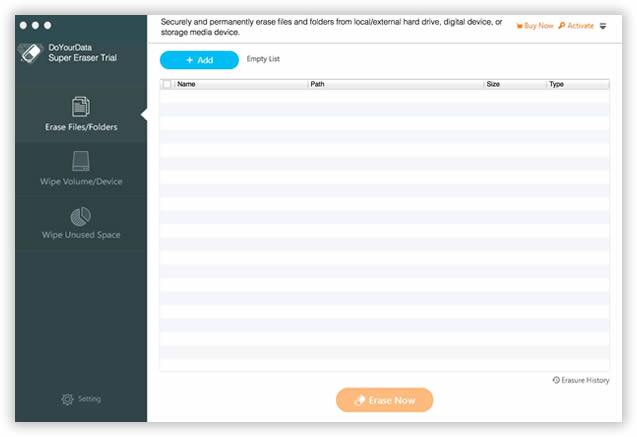 Step 2

Select Data Erasing Option

When you open the program, you will see that there are two erasing options for your choice, "File Wipe" and "Drive wipe", select the suitable option based on your actual needs. Here we select the "Drive Wipe" as an example to explain how to clean up your memory card on Mac. (Youc an also wipe Windows 7 computer clean)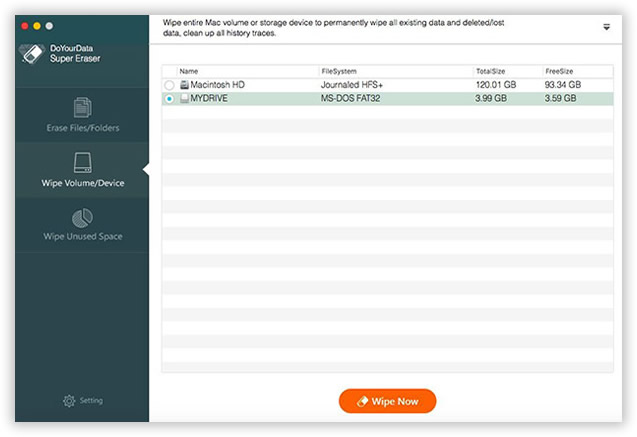 Step 3

Choose Data Erasing Algorithm (Optional)

As you can see, this program provides many advanced erasing algorithms for your choice, just select one option and start erasing.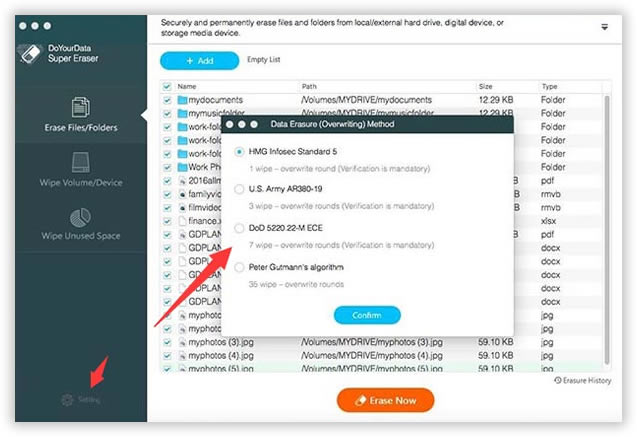 Step 4

Start Erasing Deleted Files

Click 'Wipe Now' button located on the right sidebar of the program, then it will start to deeply wipe your memory card.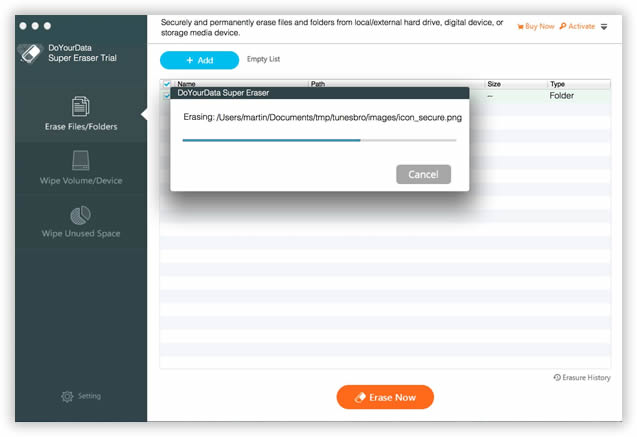 This this program does more than just deleting the reference link of the data. It makes sure that no recovery tool can be used to get back the data from the particular drive. From temporary programs to documents, applications, logs, previous histories and most importantly pictures. Not a single trace of the deleted items will be remaining in any of the disk as reference files. Most often the unused space also contains past histories and Safewiper Data Wipe ensures that such spaces are completely removed.
Basic and advanced algorithms are used to make the wipe on Mac. It is safe and reliable. There is no amount of encryption that will be able to recover what Safewiper has already removed. Hence you are safe from impending privacy attacks. You're allowed to free download the trail version and try to clean up memory card on Mac.