If you are planning to sell your computer and don't want your browsing history to be accessible to others, you will need to delete it. Nowadays everybody is concerned about privacy issues, so you would not let anyone lay hands on your privacy. The browser history on your Mac computer keeps track of your everyday activities on the internet. There are times when people are advised to erase browser history, it not only can protect your privacy from revealing, but also that can improve the speed of the device.
You need to do several things if you don't want a stranger to access your browsing history data. Here are some of the ways to delete the browsing history from your Mac Computer.
Part 1: Clearing All Safari Browsing History via Browser Settings
You can clear the entire browsing history on your Safari browser. Follow these steps:
1) Access the Safari Browser on your Mac Computer.
2) Click on the Safari menu on the toolbar; a dropdown menu will appear.
3) Click on Reset Safari or Clear History depending upon the Safari version.
4) Now you will see a number of options on the screen for the duration for which you wish to delete the history.
5) Choose the time period and click on 'Clear History'.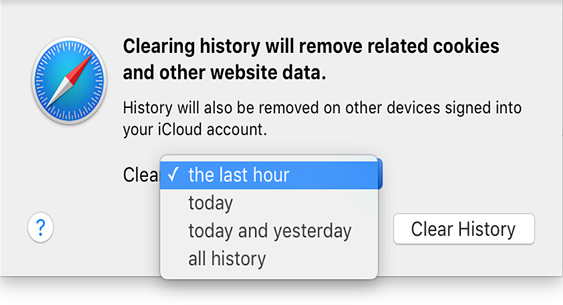 Remember that clearing history here will clear the history on all the devices which are synced to the same iCloud account.
Part 2: Deleting Specific Sites from Safari Browsing History
What if you only want to remove specific sites from the history and not wipe away the entire history? Yes, you can do that too and here is how:
1) Click on History option in the toolbar and click on Show History from the dropdown menu.
2) You will now see all your visited sites here, you will need to manually find each site and delete it by right clicking on it and then choosing Remove (you can also click on the site you wish to delete and hit the Delete button on the keyboard.)
3) You can also search for a specific site in the search box.
4) If you wish to select and delete multiple sites at one time, hold down the Cmd button while you click on the entry.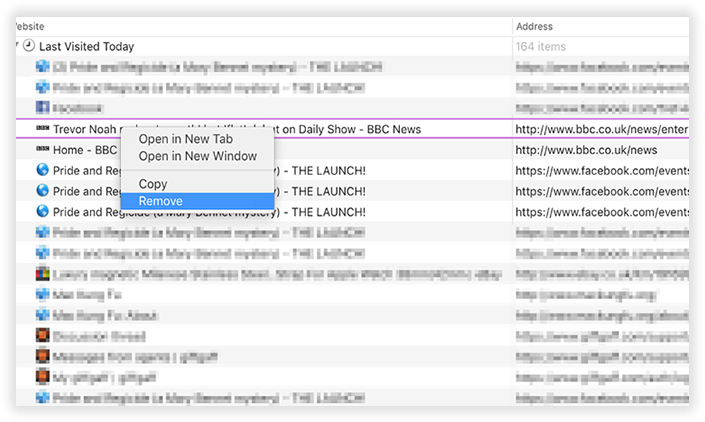 Part 3: Completely Erase Everything on Mac with Safewiper Data Wiper
Do you know that even when you have removed the browsing history, cache, and cookies they can still be recovered? If you are selling your Mac on a site like eBay or just giving it away to your friend, you will perhaps want to make sure that your history is not accessible.
The above steps we outlined remove the history, but leave some traces behind on your Mac computer. But, do not worry as you can use Safewiper File Eraser for Mac to make your browsing data totally unrecoverable. It also can completely erase photos, files, document and other data on Mac.
There are two aspects to consider:
1) The browsing data that is saved on iCloud.
2) The browsing data that is saved locally
Let's say you wish to keep the browsing data on iCloud but remove it from your local hard drive. Just use Super Eraser for Mac and everything will be wiped away irretrievably.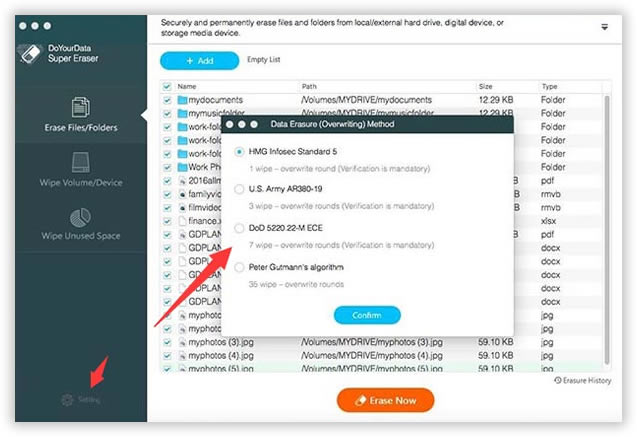 You can download the trail version here to erase private data on your Mac.
Verdict
It is easy to remove history using the browser settings. However, the traces are still left behind and thus your data is still retrievable. But, if you are using Safewiper Data Wipe for Mac, you will have complete peace of mind as no one will be able to recover the deleted history. This amazing product removes everything and overwrites the deleted sectors using special algorithms.