Users of gadgets like iPhones go for the latest model because of the added features and apps that come with it. Every few months, a new model invades the market and people rush to the stores to buy one even if their most recent purchase is still working fine. Some keep their old iPhones while others trade them in for a new one or sell them to recoup their expense. One issue that comes with deciding to trade in or sell an old iPhone is the security of the information you have stored in your iPhone, such as emails, passwords or Voice Memo.
Most iPhone users believe that after deleting files and data, they are all gone already but this is not the case because your deleted data can easily be retrieved and read by anyone who possesses the technical know-how to do so. Deleting those files does not mean that they are gone forever. They are just hidden and they can be made to reappear for others to see.
So, how can you make sure that all your deleted items cannot be accessed again of retrieved? One way of how to permanently erase the private data from iPhone before selling is to use iPhone Eraser, the best data-removing app on the market. The software can do a lot of things aside from permanently deleting data stored in your iPhone. One of the best features of this software is that it uses the technology utilized by the US Military in protecting data security. It comes with a destroyer that permanently erases everything you don't need any more. In addition, it easily recognizes junk data and automatically removes them permanently.
Tutorial: How to remove bookmarks/ voice memos from iPhone/iPad
Step 1

Install iPhone Eraser on The Computer

The program works perfectly on most of the computers including Windows and Mac OS X. Make sure you download the right file from the above link. And then install the downloaded file on your computer by following the default instructions. The program will be opened automatically when the installation is completed.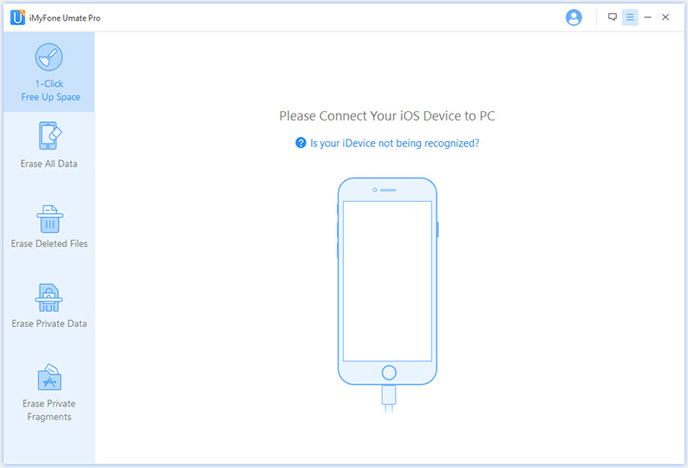 Step 2

Plug your iPhone to the same computer

Connect your iPhone to the computer via USB cable. Please make sure iPhone USB driver and iTunes were installed correctly, as it's a must to run the software later. Once the device is well attached, the program will detect and list the details about the device.
Step 3

Choose Erase Private Data from left sidebar

As you see, there are a couple of options displayed on the left side. Each option is designed for different purposes. In this case, choose Erase Private Data, which will remove search history, browsing history, cookies, logs, etc… Click the Start button to let the program scan content and settings on the iPhone. The scanning process takes a bit of time, please be patient.

Note: The app offers 4 intelligent "erasing options" for your different needs: "EXPRESS CLEANUP", "ERASE PRIVATE Data", "ERASE DELETED FILES" and "ERASE ALL DATA". You can then select the appropriate option from this list and the software worked, as it started to scan and buffer seconds after confirm the erasing option.
Step 4

Start Erasing Selected Items

All the private data will be listed on the main screen when the scan is completed. You can check each item to see the details, such as previously deleted contacts. Choose the items you're going to remove and click the Erase Now button to stat the erasing task. In this time, it will be finished in a few seconds.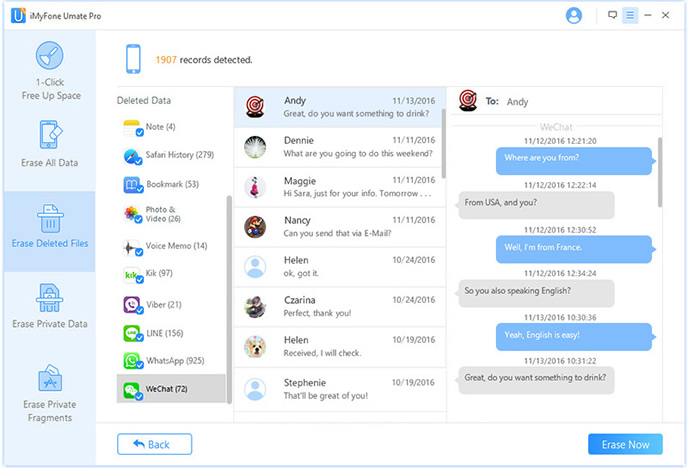 iPhone Eraser will free you from worrying about your personal data and files being seen by the person who buys your device and used illegally. Remember that your iPhone contains almost all the salient information about your life and these data can be used by others doing criminal acts. Your email address and those of your friends and acquaintances, your phone numbers, online financial transactions through banks and credit card companies, when in the hands of people who have the expertise to use them for their personal gain, can cause you problems. For your safety and security, make this program your guard at all times.