Taking photos is one of the most used functions for almost every iPhone owner. With its 8 megapixels camera, there is no need to buy an extra digital camera for photography any more as iPhone already have done a great at this. I am dare to day that most of the storage space is eaten by your photos, which is one of the most precious asset for us. And sometimes, it's in such a high privacy that we don't want to share them to others. This comes to the problem when you think about selling your old iPhone to another person and you're definitely not willing to see your private photos leaked online by someone else.
An easy way to solve this problem is to delete all of the photos manually. However, this method is not safe as it seems. Actually, deleted iPhone photos are still stored on the device unless new data is written to the same piece of storage. The photos can be restored with the help of certain data recovery software. To wipe the photos permanently, you should use iPhone Data Eraser instead. iOS Data Eraser is a powerful and easy-to-use data wiping program designed for the purpose of data deletion on iOS based devices. It's the ultimate solution to erase iPhone pictures permanently and the data is no longer recoverable.
Supported devices:iPhone 7/7Puls, 6, 6S/6S Plus, 5S/5C/4S/4/3GS, iPad, iPad Mini and iPod Touch.
Tutorial: How to Wipe iPhone Photos without Recovery Possibility
Step 1

Download and Install iPhone Eraser

Download the installation file via the Download button, and then install the software on your computer. The software will be launched automatically at the end of installation. After that, connect your iPhone to PC via Apple USB cable, and waiting for the device being recognized by the software.

In the lasted update, there are four erasing options available: "Express Cleanup" "Erase Private Data" "Erase Deleted Files" and "Erase All Data".. Each reasing option has different erasing purpose.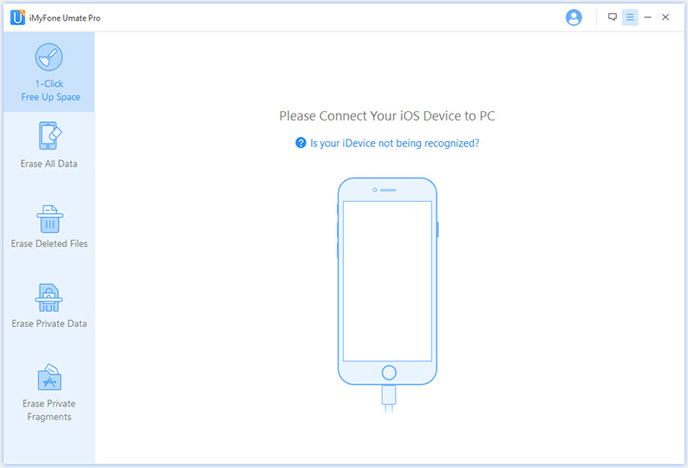 Note: Make sure iTunes is already installed , or the software won't detect your iPhone.
Step 2

Select Erasing Option and Start to Analyze Your iPhone

You know simple deletion is not enough; this article takes "Erase Deleted Data" as an example to help you figure out how to permanently delete private photos from iPhone device. The program starts to scan data stored on your iPhone when you agreed to delete data. It will take a few minutes to fully delete all the data, depending on how many data and files on your device.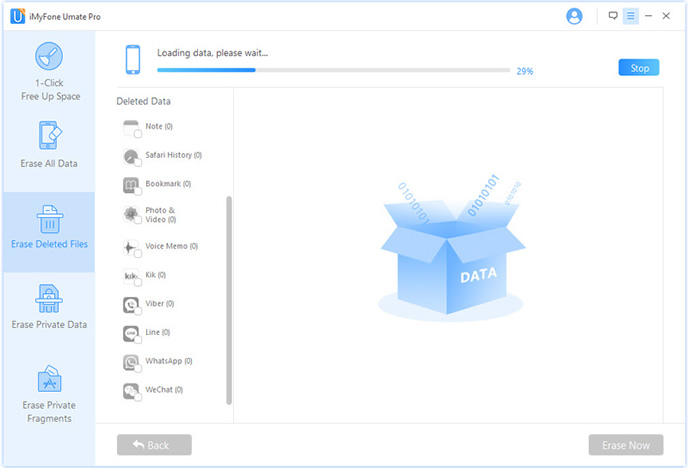 Step 3

Preview the Scaned Result and Erase Private Photos Selectively

This step will deep scan your device, with this option you can see what data still remains on the device and be sure that the files you previously deleted are no longer accessible or recoverable. It may take 5 or 10 minutes finish the task based on the size of data. After scaned, you can preview all scanned data.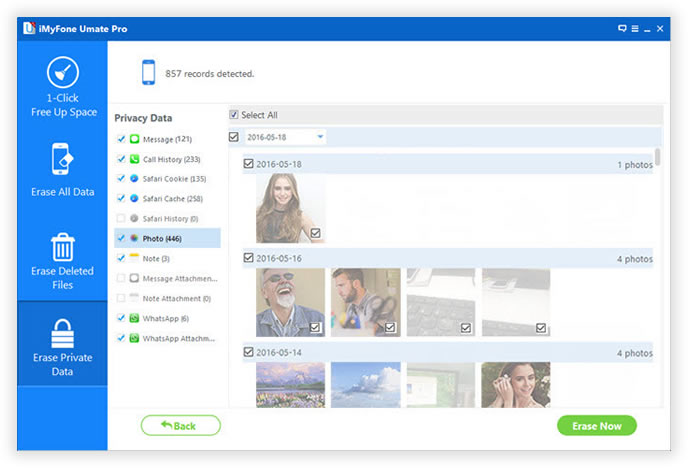 Step 4

Erasing Your Photos or Other Data without Restore

Now, click the box beside the data types you'd like to erase. If you want to permanently delete photos from your iPhone, just select "Photos" option. You will be prompted to type the word 'delete' to confirm the permanent deletion of the data. Once the data is deleted, you will see the following window.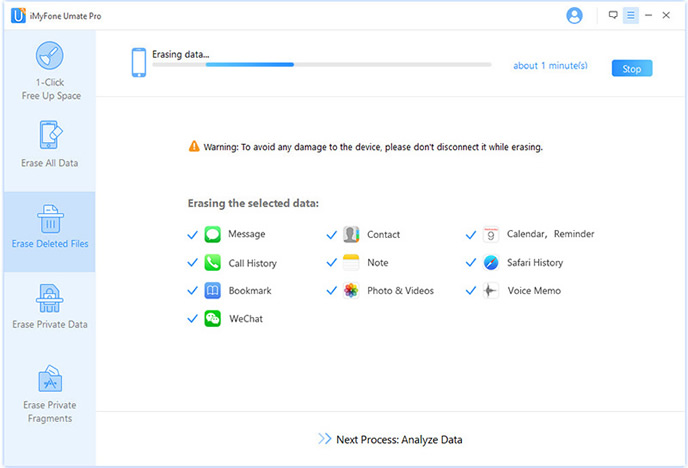 When the process is complete, please restart your device, which is a totally new device now. All of the previous data were deleted permanently and no data recovery software can get the data back. So it's absolutely safe to sell the device to someone else in the world. Just try this powerful iOS Data Eraser Program, all of your private picutres will cleared permanently and thoroughly.