There is no need to worry about storage issue when you bought a new iPhone. However, with the time goes on, the space becomes less and less, which slows down the overall performance and makes the user experience pretty bad. This effect is quite obvious on 16G iPhone. As an active iPhone user, we all know photo, music and apps are the data that take up most of the space. So they are our targets to free up the space by managing them in a more effective way.
To be honestly, there are a lot of related articles on this issue and most of them are similar. In this article, I will show a different yet comfortable solution on how to save more space on iPhone. You won't get your hands dirty and you don't need to take much time on completing the task. I will list all the possible options on free up space and it's your own choice to select the one you are comfortable with.
Part 1: One-Click Solution to Free up Space on iPhone
Part 2: Delete or Compress Photos to Free up Space
Part 3: Remove Unwanted Music or Video to Get More Storage
Part 4: Delete Old iMessages and Attachments to Save More Space
Part 1: One-Click Solution to Free up Space on iPhone (Recommended)
This task will be a routine when the device runs after 3 months usage. If you chose to do it manually like others suggested, then it would take a lot of time on this, which definitely not a good option as time is more valuable. This is why I recommend a commercial alternative in this article. With SafeEraser, all you need to do is a few mouse clicks. The program takes care all aspects of the entire process in a short time. Besides, it has several erasing options suited for different purposes. I will take iOS Optimizer as a demo in this tutorial. For other functions, I am sure you can handle it yourself because the program is straightforward. A brief introduction on different erasing options:
iOS Optimizer: intended to release massive space and improve the performance for iPhone/iPad/iPod. It will remove system caches, tmp files, app data, downloaded files and logs.
Space Saver: export iPhone photos to computer and compress all photos afterwards. With an astonishing 75% compression ration, this is one of most effective way to save storage on iPhone. Besides, the compressed photos are still in good quality and you can't see any difference between it and the original one.
Erase Private Data: an ideal method to remove files individually. The program scans all the files on the device and you select which kind of files to be deleted, including messages, contacts, photos, notes, call history, caches and browsing history.
Step 1

Install SafeEraser on Computer

There are two versions of SafeEraser. One is for Windows and the other is for Mac. There are minor differences between the two versions. I will take Windows version for example. I am sure you will figure it out quickly if you used a Mac. Download and install the program on your computer according to your computer specs. Launch the program when installation is completed.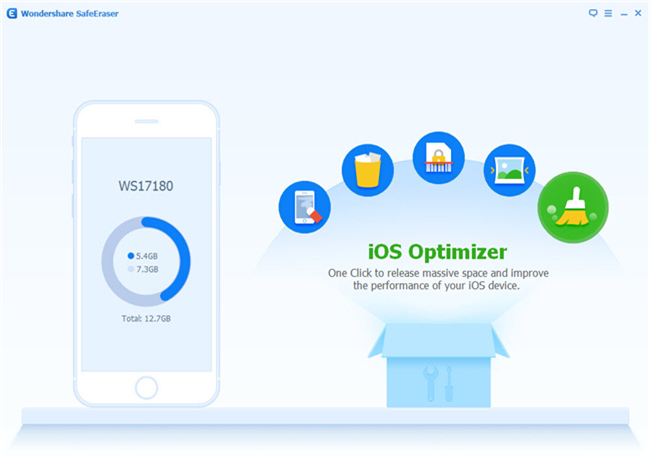 Step 2

Scan and Analysis iPhone File System

Connect your iPhone to the computer with USB cable. Then the program detects the iPhone and lists the overall storage information about the phone. Select 'iOS Optimizer' from the option list. Press the 'Start Scan' button, then SafeEraser will begin to scan and analysis the whole file system on the device.
Step 3

Select Files to be Deleted from the List

When the scanning is done, it will list all the possible data available for removal. There is a short introduction on each data displayed on the screen. Please read it first and make your choice afterwards. In default, all items are selected. Click the name if you want to leave it unchecked.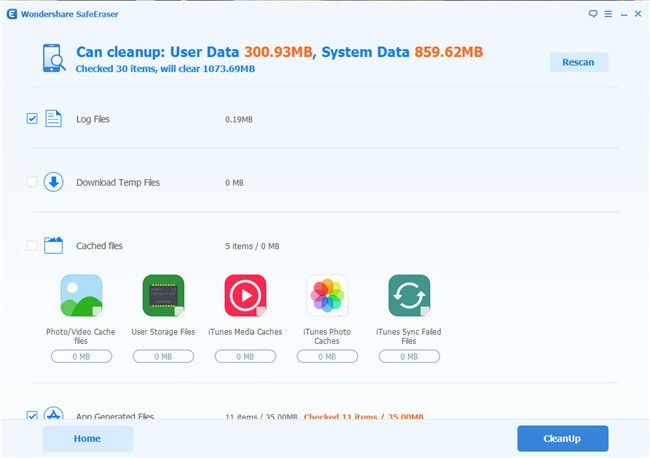 Step 4

Start Cleaning up Selected Files on iPhone

Click 'Cleanup' button to start the cleaning process. This program will permanently delete all selected files from the previous steps. When the cleanup is complete, it will show how much space saved from the operation.

.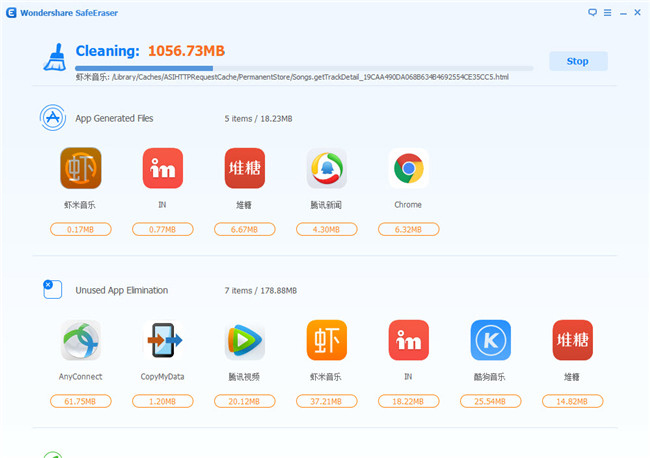 Part 2: Delete or Compress Photos to Free up Space
If the photos took too much space of iPhone, then this tutorial will help you how to manage photos effectively to free up the space. Here come two options: one is to delete old photos to make space for further ones; another is to compress the photos. No matter which solution you are going to choose, the first step is to delete duplicate ones.
The prior option is quite easy. Open photo apps on iPhone, select the ones you think is right to delete. Tap delete button when selection is done. After that, there will be more space available. Make sure you backed up the photos before this action.
The later choice is to use SafeEraser to compress the photos. First choose 'Space Saver' from the left sidebar, and then export the photos to computer for backup. Finally, select compress button from the startup screen. This will compress all the photos on your device.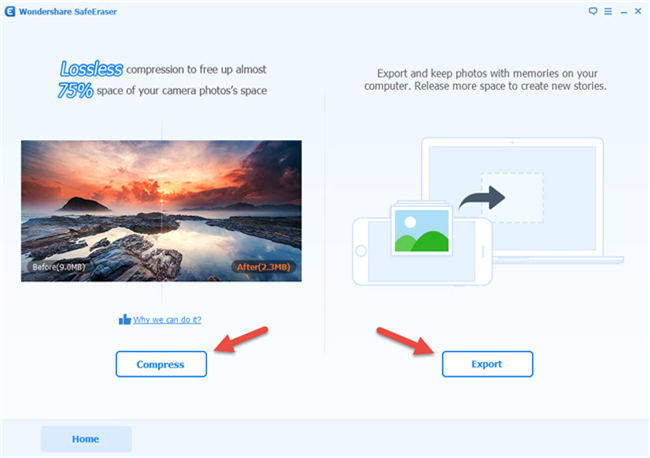 Part 3: Remove Unwanted Music or Video to Save More Storage
Media data is another important factor to eat up space on iPhone. However, this is a relatively small issue. Unlike photos, you can re-download the file even you deleted it by accident. Check the music or video files on your device, and tap the delete button to remove music you seldom listened to or videos you already watched.
Part 4: Delete Old iMessages and Attachments to Free up Space
Usually, iMessages won't occupy much storage on your device but it depends. If you use the app intensively, then you should check how much space the app takes (Settings->General-> Storage & iCloud Storage->Manage Storage-> Messages). To delete messages or attachment from iPhone, you can edit it one by one manually or use SafeEraser to do it automatically.
First download and install SafeEraser on your computer. Then select ' Erase Private Data 'to get started. It will scan the iPhone and mark Messages and Messages Attachment after it. Finally, click 'Erase Now ' button to begin the erasing process. After that, all your selected messages will be deleted completely..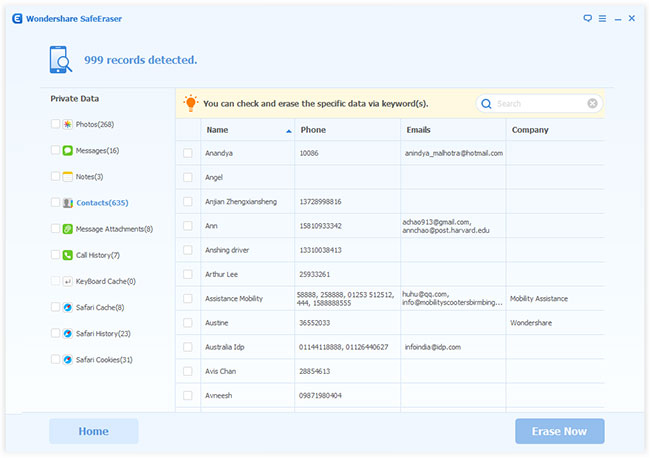 For deleted files and junk files, you can also use this program to do that. To save more space on your iPhone, it's really a time-consuming task if you wish to do it yourself. However, you have another choice on the issue but need to pay for a few bucks to free you up from the task. It's more a personal choice. The manual method takes more time and the commercial one needs some extract money on it. For me, I first did it manually but switched to iPhone Data Eraser once I found it.