Most people prefer to own the latest model of any gadgets such as mobile phones. Possessing the latest mode has become a status symbol for most people because only those who have money can easily afford them. However, those who are short of budget can still have the latest devices by trading in their old phone or by selling it to offset the cost of the new one. Selling or trading-in your device would require you to wipe out all data from your device, including settings to protect personal details that can be used by criminals who can steal your identity for illegal purposes or blackmail you regarding private photos, messages, or calls that have been stored in your device.
To make sure that your iPhone is totally clean when you sell it or exchange it for a new one, you must know how to erase all content and settings in your iPhone. Simply deleting your files does not mean that no one else would be able to see them. Data that you have deleted are not permanently gone; anyone who knows how to tinker with your phone would be able to retrieve your files. Protect yourself and your private files from other people's eyes by deleting them permanently, In the past, this might not be possible but nowadays, no matter what your reason may be, there are two ways to go at it.
Tutorials: How to Erase All Content and Setting from iPhone/iPad/iPod
Step 1

Backup Your Data on iTunes

First of all, you should sync and backup all of your important data to computer via iTunes, just in case you need to reuse them or transfer to your new device.

1) Connect your iOS device to a computer with the latest version of iTunes installed 

2) Select your iOS device in iTunes under Devices

3) Right-click the device and select Back Up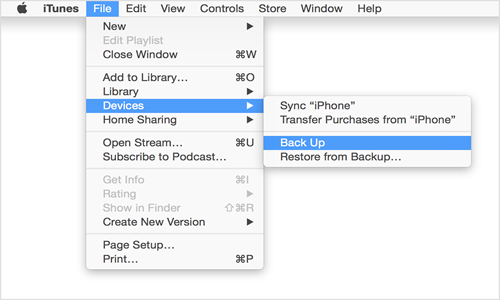 Step 2

Keep Batteries Fresh

Because it will take some time to finish the whole process, you must  keep those batteries fresh and can't disconnect your iOS device to computer. Keep your iOS device connected to a power source during the process, such as you can plug your iOS devices to computer.
Step 3

Start to Erase All Content and Settings

At least in theory, this will erase everything on iPhone, iPad and iPod — all your data, media, and settings, it  brings your iPhone, iPad or iPod device back to its default factory state.

1) Navigate to Settings > General > Reset

2) Select Erase All Content and Settings. Tap button twice to confirm.

3) Erase all content iPhone, iPad or iPod.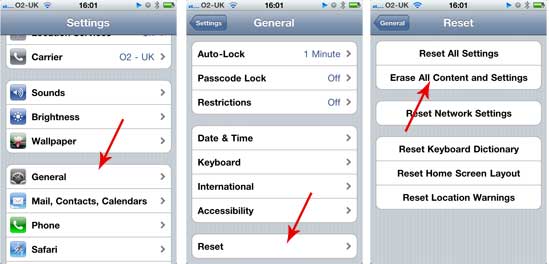 Please be aware that it will take a long time to finish the whole process based on the device, so be patient. After performing the "Erase All Content and Settings", Your iPhone or iPad will now reboot, you'd better check to see whether your iDevices works properly or not.
NOTE: Factory reset is not enough to remove your data, the deleted data still remains on the device and easily can be recoverable with the right tools. You'd better use a professional data eraser tool to ensures that your information is safe.
Alternative Approach: Completely Erase Everyting with iOS Data Wiper
When you experience any problems using 'Erase All Content and Settings', you can try try Alternative program - iOS Data Eraser application, which allows you to permanently wipe out data from your device. This program uses the technology employed by the military of the US totally and absolutely get rid of all data found in your iPhone, iPad and iPod. Like a shredder for secret documents, it can obliterates all data that you want to remove permanently.
Take A Look At Key Features of iOS Data Eraser App
1. Permanently erase all data from your iPhone, iPad and iPod without restore.
2. Deeply analyze your device and eliminates 30+ types of junk files.
3. Gives you 5 powerful data erasing options to cater to your different needs .
4. Simply boost up your iDevice running speed and the whole performance.
5. Clearing browsing history, caches and protecting your personal information.
6. More>>
Step 1

Install iOS Data Eraser App and Connect iPhone to PC (Mac and Windows available)

Firstly, run the program on your computer after the installation, and connect your device to computer via a USB cable, you can see the main windows as below.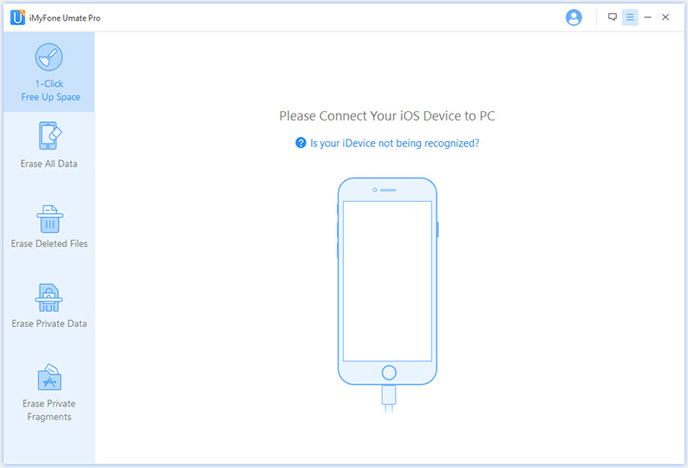 It provides 5 options for your needs:
• Erase Deleted Files:  permanently remove the "Already Deleted" Data on your device.
• Erase Private Data: Permanently delete all private data stored on your device.
• Erase All Data: It will erase all data (both deleted and existing data) on your iOS device.
• 1-Click Cleanup: 1 click to release massive space on your iPhone/iPad/iPod touch.
• Photo Compressor: Directly Compress you photos on iOS devices to reclaim more space.
Step 2

Select Proper Erasing Options

In the program, you can see 5 options for your need, to erase your data without restore, I recommend you select "Erase Private Data" option to wipe all information on your device. The program will automatically begin to analyze and scan the data on your device.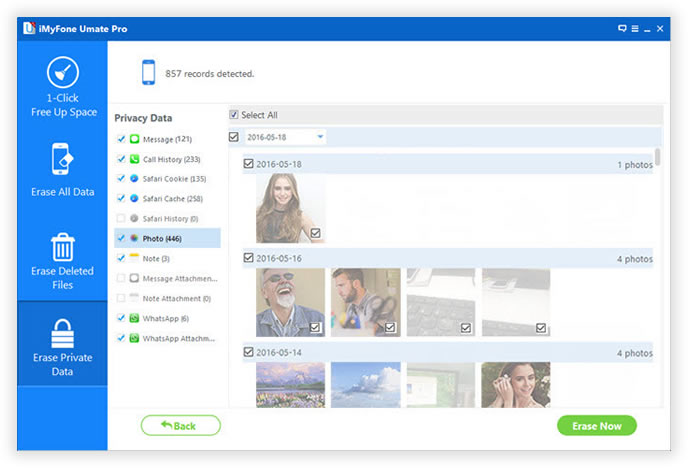 Step 3

Check the Data Types You Want to Erase

Once the scanning is done, all your private data will be displayed in categories, just check the data types and select the data you want to erase. You can try the "preview" and "Search" features to help you quickly locate the data.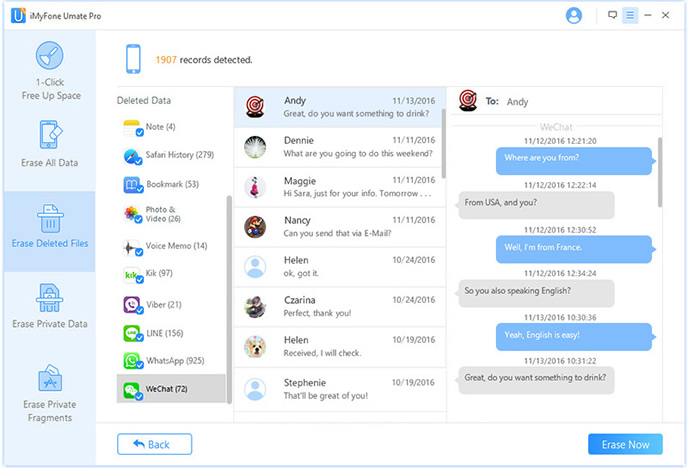 Step 4

Start the Erasing Process

After Scanning, all your data will be listed in scan result in well-organized categories, you need to select the data you want to erase and then click "Erase Now". You will be prompted to type the word 'delete' to confirm the permanent deletion of the data.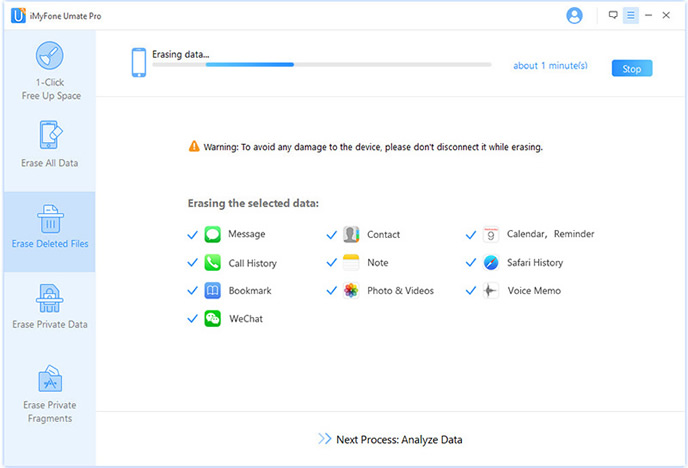 Don't trust that the simple deletion could completely delete your data off iOS device, many people still don't know that the deleted data still remains on the device and easily can be recoverable with the right tools. If you are selling or recycling your iPhone, iPad or iPod, I highly recommend try this iPhone Data Eraser app to scan your data.