Thinking of selling your old iPad or iPod in a garage sell? Or exchanging it for a new phone online? It's about time you erased all that personal information from your device to avoid identity theft. In the United States, one out of ten people are victims of this new-age crime. Virtual criminals and hackers can steal your id, passwords or credit card information if you leave them with traces or links of your old device. Even personal photos and videos can go viral on YouTube if you are not careful with your phone's data. The iPad, iPod device can store everything from photos to videos to notes. For folks who are in the habit of storing their card and account passwords and pin codes in their iPads, identity theft is a real risk. So how do you delete your personal information in such a way that hackers cannot access them? Most of us 'delete' our gallery and notes before selling our device, assuming that our data is safe. However, very few of us know that data is not permanently deleted even when you have pressed that little 'dust-bin' icon. Hackers can still access your data with their advanced software.
Now, erasing your iPad completely and safely is child's play with the new "iPhone Data Eraser" app from Safewiper Studio. This app not only deletes your personal stuff from the pod, it also successfully destroys any traces, links and caches that might lead hackers to your precious data. With the SafeEraser app, you can breathe in peace after you have sold or recycled your old iPad. Not even the most advanced hacking tools can get hold of data that has been erased using this app. It is completely safe and also quite easy to use. All you need to do is download the app and follow some simple steps to eliminate your device data for good. The iPad Data Eraser app will permanently delete everything from messages, contacts, reminders, notes and call history to photos, videos, safari bookmarks, voicemail and Facetime info.
Supported devices:iPhone 7/7Plus/ 6s/6 Plus/6/5S/5C/4S/4/3GS, iPad 2, iPad 4, iPad Mini, iPad Pro and iPod Touch.
Tutorial: How to Delete iPad & iPod Photos, Videos without Recovery
Note: I suggest you'd better back up all of your important data before erasing because the program will completely wipe everything off your iPad and iPod without recovery. Make sure iTunes is already installed , or the software won't detect your iDevice.
Step 1

Install, Run the Program and Connect iPad to PC

Directly run the program after installing it on your computer, you need to connect your iPad or iPod device to computer via USB. The program will detect your iPad automatically. You will see the main interface below.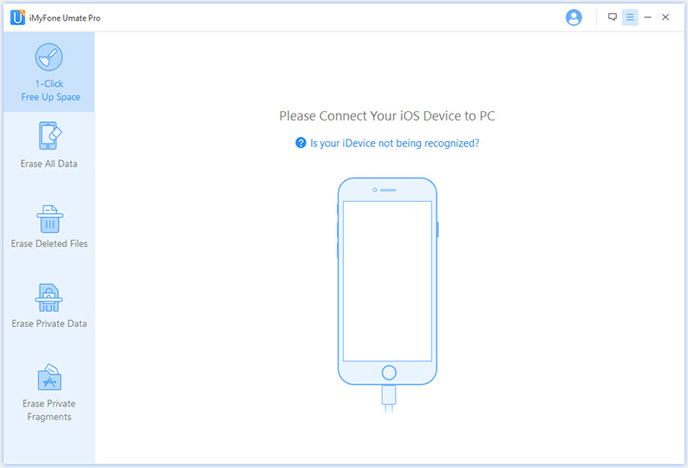 Step 2

Choose the Erasing Option

As I mentioned before, the simple deletion will not far enough to completely wipe your iPad or iPod, the data still be easily recovered by some professional data recovery app. In this new edition, there are 5 erasing options available: "iOS Optimizer ", "Space Saver ", "Erase Private Data", "Erase Deleted Files" and "Erase All Data". Here we select the "Erase Deleted Files" option and continue.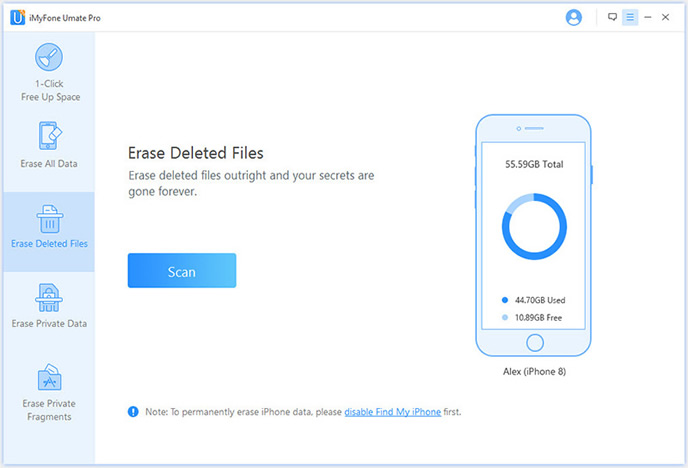 Step 3

Start to Deeply Scan All "Already Deleted" Data on iPad and iPod Device

After you select the "Erase Deleted Files" mode, it will start to deep scan all data on your iDevice device including 'already deleted' and "existing' data. It may take a few seconds to finish the task based on the size of data. After scaned, you can preview all found data.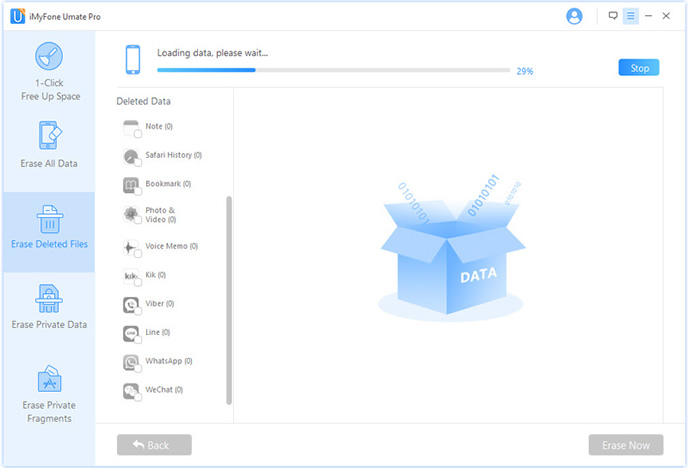 Step 4

Select the Photos You Want to Delete and Start to Erase

After the scanning, all the 'already deleted' data will be found and listed on the left. You can preview the data by clicking the category name and all detailed info will be showed on the right. Just simply click the box beside the data types you'd like to erase. Select "Photos" option. You will be prompted to type the word 'delete' to confirm erasing.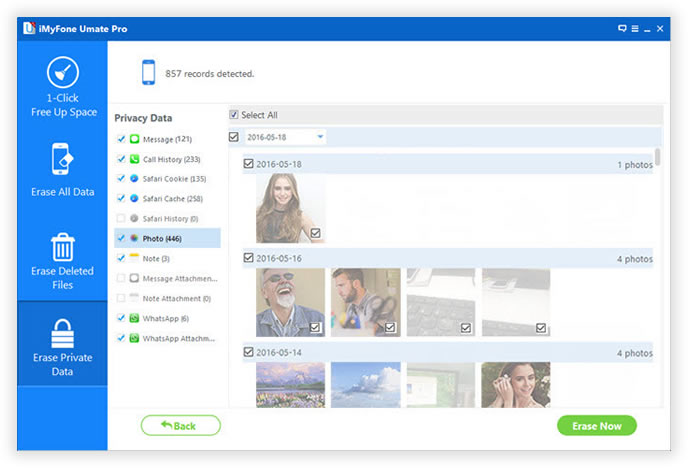 The erasing process is quite fast, it can be done within seconds, once the photos or other data is erased, you will get a messages 'Successfully erased', don't disconnect your iPad or iPod device with PC during the process.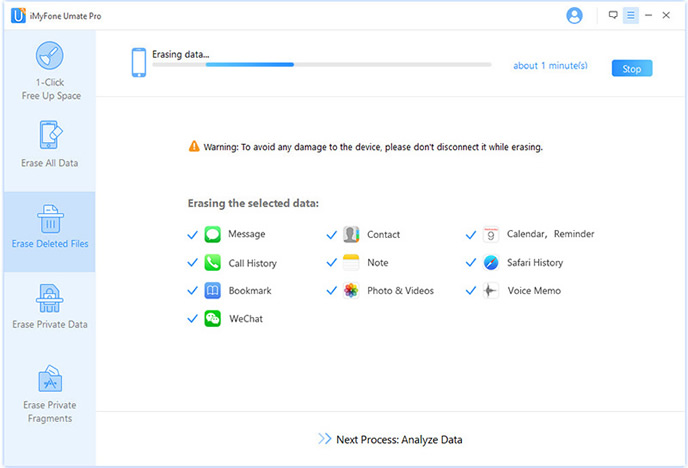 This iOS Data Wiper uses the latest technology to ensure your protection against all kinds of online crime. It is also a great app to free up space even if you are not selling your device. There are options to individually clear up different folders and apps, so that you can clear all the junk in no time. There is a separate option to 'speed up your phone' which just works on clearing out old caches and useless spam that accumulates over time on your device, take a look at how it cleans up junk files from iPhone, iPad and iPod .
Erasing these permanently automatically speeds up your device and also makes it less vulnerable to viruses. You can get a free trial of this software from our website and use it for 15 days to experience the magic of iPad Eraser. With the trial version, you will be allowed to scan the device for all the vulnerabilities but won't be able to delete them. For full functionality, you need to buy the complete version which comes at a reasonable rate of $39 for a life and works for iOS versions 9.1.