Since the release of iPhone and iPad, it becomes the most popular gadget on the planet. It can used to do a lot of things; one of the most frequently used func ions on iPhone is for web browsing. And searching is an important part of it. The search engines are smart enough now that gives you suggestions based on previous searches. But in most of time, we need to keep the search queries in private as we don't want to other people see what we just searched. So clearing the Safari search history is a regular work we need to do.
However, simply deleting the search history cannot assure you of absolute privacy. There are tech savvies that are good enough to dig deeper into your phone's system and see what you have been up to. That's to say, when somebody has the access to your phone and then he will know the lists of Safari pages you've visited by checking the Safari history. You need some program to permanently obliterate the searching and Safari browsing history. iPhone Eraser is designed for that purpose. It incorporates the US military technology of des troying classified data, which wipes out information fully and no one can retrieve them or use them anymore. It can erase all items in your iPhone completely. This is the best way to clean your iPhone, iPad and iPod device so that no one will be able to access those items anymore.
Aside from completely deleting your Safari search history, it can be used to permanently remove your contact list, text messages, videos, photographs, calendars, music, and game. For those who plan to sell their devices, this can ensure them that the phones are as clean as new and the buyer will not be bothered by items that are not his own.
Tutorial: How to Clear Safari Browsing History from iPhone/iPad/iPod
Step 1

Install the Program and Connec iDeivce to PC

iPhone Eraser works nicely on Windows and Max OS X computers. So please download the corresponding file from the above link and install the software on your computer by following the default graphics interface. The program will be launched automatically when installation is finished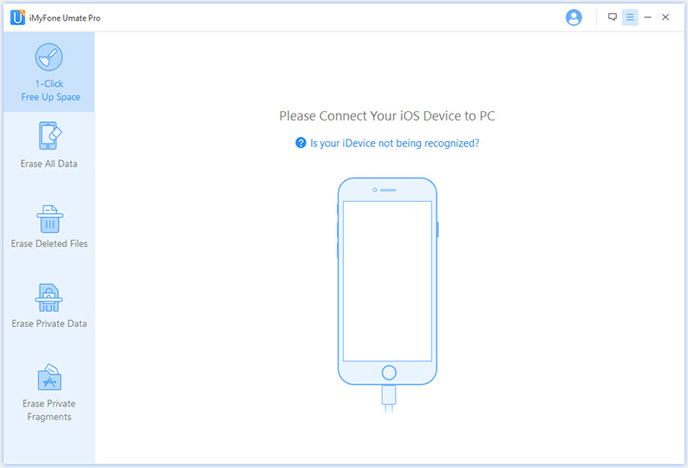 Step 2

Select "Erasing Private Data" Option from Left Sidebar

As you see, there are a couple of options displayed on the left side. Each option is designed for different purposes. In this case, choose 'Erase Private Data', which will remove search history, browsing history, cookies, logs, etc… Click the Start button to let the program scan content and settings on the iPhone The scanning process takes a bit of time, please be patient.
Note: The app provides 4 "erasing options" for your different needs: "EXPRESS CLEANUP", "ERASE PRIVATE Data", "ERASE DELETED FILES" and "ERASE ALL DATA". You can select right option based on your need.
Step 3

Begin Analyzing and Scanning the Data on Your iDevice.

This step, the program will analyze and scan all data that created on your device, it may take a while to finish the whole scanning process; please don't disconnect your device to computer.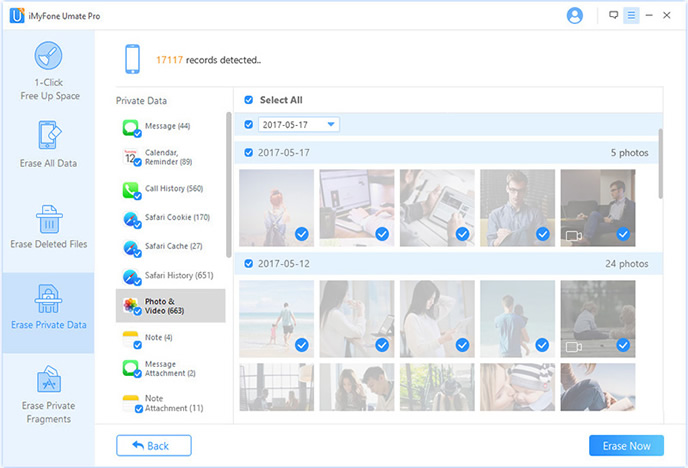 Step 4

Privew and Start Deleting Browser Cache&Cookies

All the private data will be listed on the main screen when the scan is completed. You can check each item to see the details, such as how many search queries you did. Choose the items you're going to remove and click the 'Erase Now' button to stat the erasing task. In this time, it will be finished in a few seconds, which is quite fast.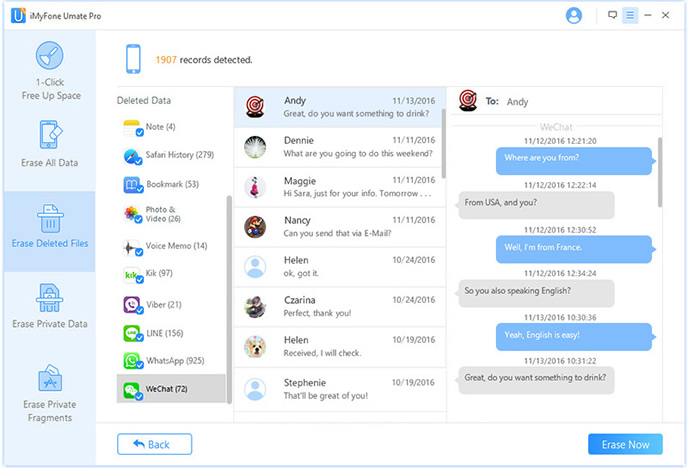 Removing your Safari search history on iPhone, iPad and iPod will protect the best interest for you in matters of privacy. By doing this, there is no one having some clue on what you have been up to. What's more, you are able to delete the unwanted staff to free up the storage on your iPhone for further uses. However, you can't do this with the default settings iPhone provides. With iOS Data Eraser, you will enjoy absolute privacy and a highly optimized iPhone at the most affordable price. Support teams are available 24 hours a day, 7 days a week, to assist you whenever you encounter problems with the software so that you will be able to have the most satisfying experience using it.