We know that Contacts app is used to store and manager friend's information like phone numbers, email address and more. If you are about to sell or trade your Android cell phone then indeed you are required to take certain security measures before you get rid of your device. Obviously, you should first delete contacts, messages, photos, SIM card and SD card from your smartphone and then clear your entire phone securely so that the new owner gets a brand new phone and at the same time you are relieved that everything from your phone is gone.
No matter what reasons you want to delete contacts from your Samsung Galaxy, Selling it, donate it or just want to delete some sensitive contacts information. In this article, we will demonstrate both ways to clear Contacts info from Samsung Galaxy or Note phone.
Method 1: Delete Contacts in the Menu on Samsung Galaxy
It's very easy to delete contacts from your Samsung phone, I belive everyone can do it. In fact, there are two main ways to remove a contacts. Just follow these simple instructions for entries in your main Contacts listing:
Step 1. On your Samsung device, open the Contacts app
Step 2. Find the contact you want to delete
Step 3. Stylus over the selected contact until a pop-up menu appears. If you want to delete more contacts, just tab each contacts you want to delete.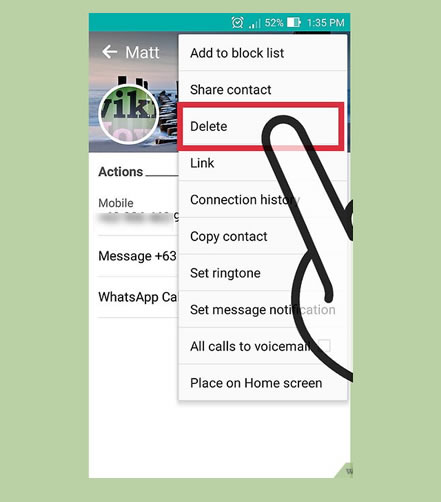 Step 4. In the menu, select Delete. You'll be prompted to confirm that you want to delete the contact(s) from your device. Click yes. If you've synced all contacts to your Facebook or Google, you might also want to remove your Google and Facebook accounts from your device.
Warning

: Simple Deletion Doesn't Erase Contacts Completely - 100% Recovery

Whenever you erase any file from your Android OS, generally Android OS deletes the links and the marks from that file so that the file doesn't appear to your device anymore. You may also check the disk space and it should reflect the empty space. But in reality, until you re-write new data over your device, those deleted contacts or other file can be still recoverable. Any free or professional data recovery tool can deeply scan your device and can restore those removed data effortlessly.

See how Android data recovery software scans and recovers your contacts after you deleted or factory reset.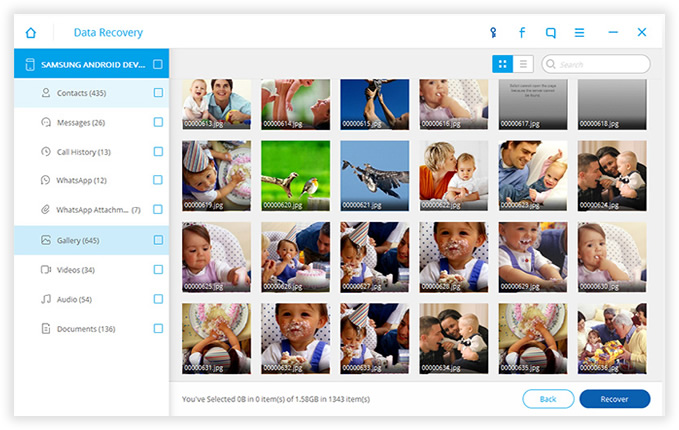 Maybe too incredible! But this is true! You need a professional data wiping tool, see Method 2.
Don't miss: How to Completely Erase Messagse from Android Phone
Method 2: Completely Erase Contacts from Samsung Galaxy S8/S7/S6/S5
No matter what reasons you want to delete all or part of the contacts from your Samsung galaxy phone, using the right solution can make the deleted contacts unrecoverable! Simple deletion function can't really destroy the data permanently. These deleted items are actually stored in the cache memory of the phone that can be effortless recovered with any free data restoring software. Hackers always take advantages of these small loopholes to steal your personal identity and destroy your credibility.
SafeWiper for Android is the perfect and efficient data erasing desktop software that can permanently erase every single file from your Android phone like it never existed. It uses extremely strong algorithms to erase data from your phone which are originally used by US military and government officials. It is assured that no data recovery tool can ever be able to restore the files deleted with SafeWiper for Android. So, first of all, go ahead and backup your entire phone to avoid any kind of data loss.
100% permanently wipe everything from your Android beyond recovery. Nobody can recover the wiped data.
Erase over 6 data types including messages, pictures, videos, music, contacts, notes, documents, apps, etc
Use advanced algorithms (Dod 5220-22.M, US Army, Peter Guttman) to completely wipe data.
Supports all popular Android phone and tablets like Samsung, LG, Sony, HTC, ZTE, Huawei, Moto.etc.
Download it here and try to remove photos from Android device.
Step 1

Install Program on A Computer and Connect Your Phone

Get the latest version of SafeWiper for Android and install it on your respective computer. Next, launch the software and get your device connected with computer via USB data cable. Make sure to enable the USB debugging mode and if everything is done perfectly then your phone should be identified by the program.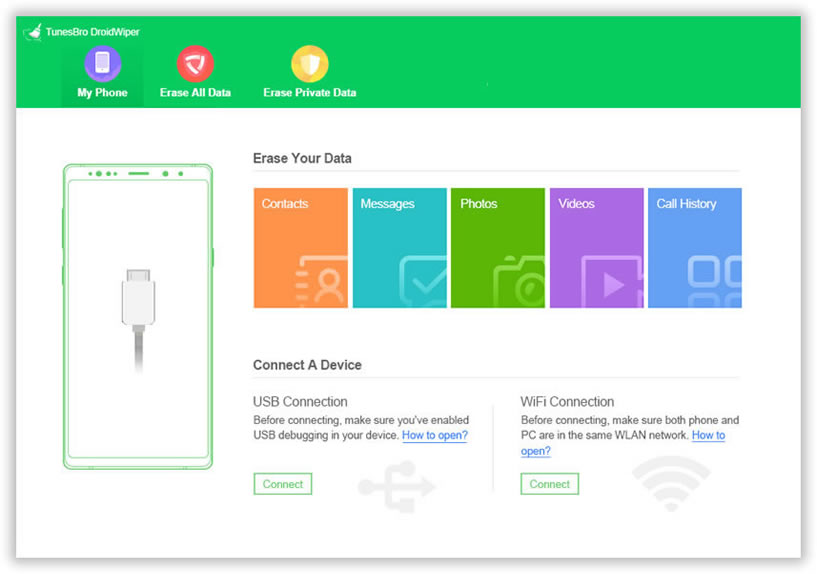 Step 2

Select the Feature of 'Erase Private Data'

Select the data erasing plan but if you are selling your phone then choose "Erase All Data" or "Erase Private Data" and scan your entire phone. If you only erase one or multiple contacts, then just select the option of Eraser Private Data on the top, it will deeply scan all the existing files .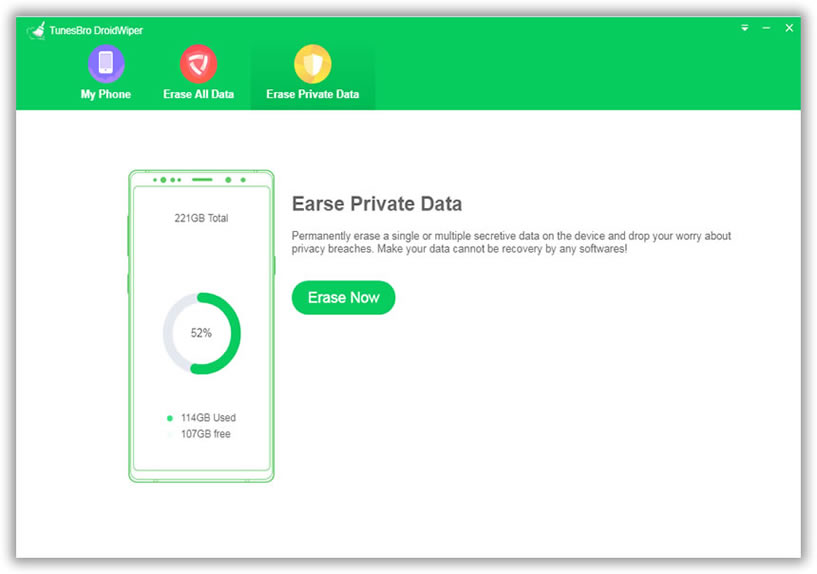 Step 3

Preview and Select the Contacts You Want to Erase

After scanning, all the data stored in your phone will be displayed in the program, choose all the data types that you wish to destroy permanently and click on "Erase".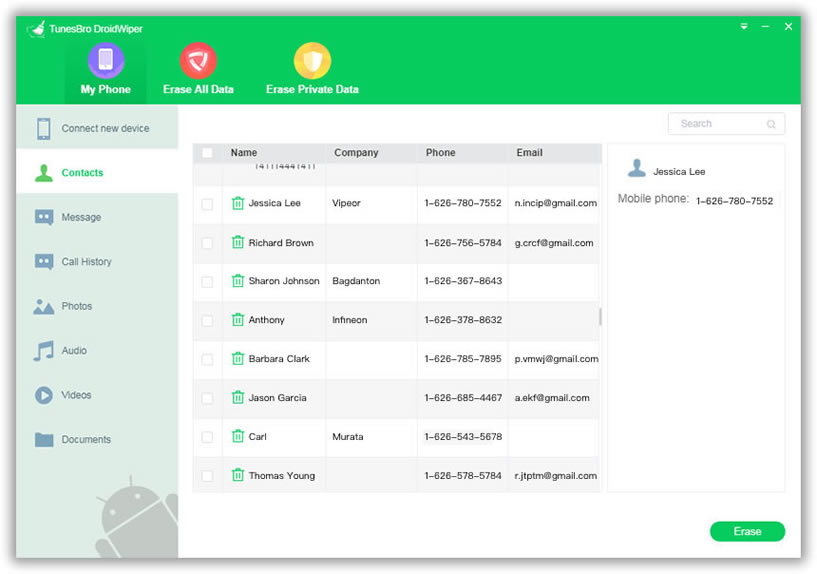 To start to erase contacts, a Windows will pop up asking you to confirm eraseing, just type "Erase" word in the box. Choose the algorithm with which you want to wipe out your phone. If you are not sure then choose the Medium level and hit OK.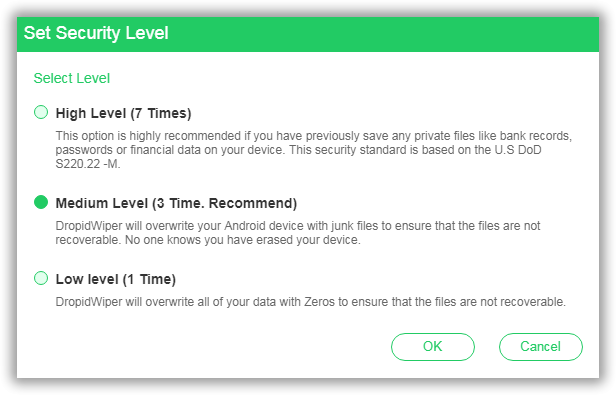 Step 4

Start to Erase Contacts on Samsung Phone

Say good bye to your phones data forever and watch the program while it erases contacts permanently. It will take some times to finish the erasing progress, don't disconnect your phone to PC, otherwise the erasing will be stopped.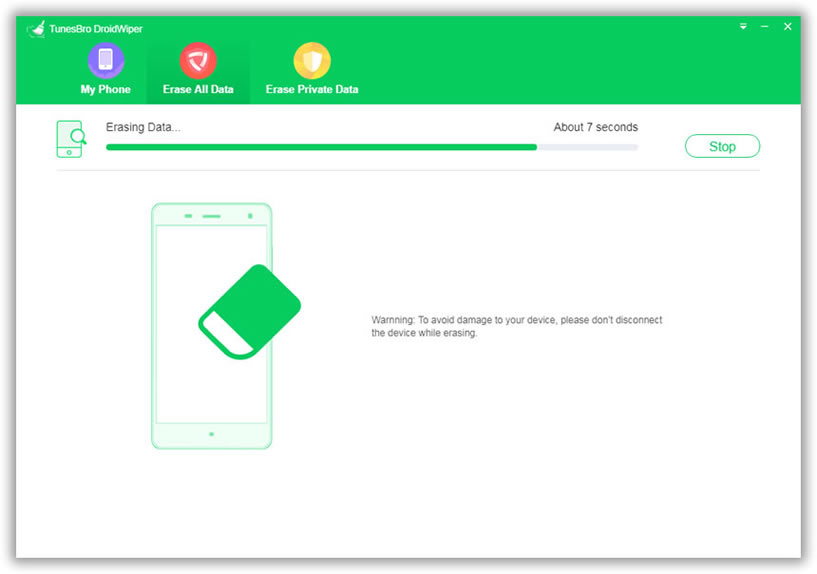 Millions of identities are theft every year and it is proclaimed that these data are collected by recovering data from old used phones. If you don't want to participate in the same statistics then you should take wise precautions before handing your phone to anyone. SafeWiper for Android assures that no data can be recovered whatsoever. So you can sit back and relax because no hacker can ever steal your identity from your sold phones.