The development of IT industry, accompanied by the prevalence of cell-phones, has been reversing our life by making it convenient and colorful. At the same time, a growing number of people are anxious that the datas stored in their iPhones, including data, SMSs, contacts, photos, videos and voices would be acquired by another person. In most cases, most people may purchase a lot of iPhones and SIM cards from online site like eBay, Amazon or other sites, unearthed personal information on almost every one. There are large numbers of iPhone users state that they have deleted personal data by performing the deletion operation in the iPhone before selling and passing their iPhone to a new owner. But in fact, simple deletion is not far enough, they are still there. This potentially frustrating behavior is the result of an intricacy of how the iPhone deletes data, it is necessary to know how it works, when you attempt to clear the private data on your iPhone, the first behavior is that press the "Deletion" button. When you "delete" some kinds of items from your iPhone device, It turns out that they don't actually get deleted; instead they're marked as deletion statue and hidden by the operation system. But they're still on the iPhone. The deleted data will still remain there but marked with "deleted", they are recoverable!
Sometimes, we all need to completely delete personal data from iPhone, one way to prevent nosy people from stealing your deleted data is to keep them from gaining access to your iPhone in the first place. You have to know about the phone's memory. In general there are 2 types of iPhone memories, phone internal memory and SIM card memory. Most user are also accustomed to saving messages, contacts info into SIM memory card, Unfortunately, most programs don't have the capacity to identify the SIM memory details of your handset. But there is still a way available to easily recognize iPhone SIM card, them completely wipe iPhone data. That's iPhone Data Eraser program, it was designed for erasing iPhone files permanently and it's absolutely none recoverable. Here you should learn how to prepare your iPhone device for retirement or a new owner by ensuring you've removed all traces and private data of your own use.
Tutorial: How to Completely Erase Deleted Data on iPhone 4s/5/6/Plus
Step 1

Install, Run iPhone Data Eraser and Connect iPhone to PC

First, you have to download and install this program on your computer, windows and Mac is available now. Once the installation process is complete, launch it! Look the main window bellow; you will see it provides four options for different needs. Then connect your iPhone to computer via USB cable, it can identify your iPhone device within seconds and show the device parameter.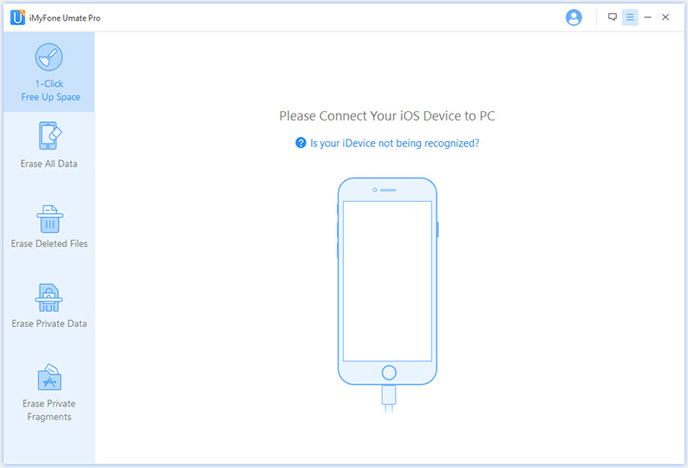 Step 2

Choose the Erasing Option and Begin to Scan (Erase Private Data)

At the beginning of the article, we're stressed out the simple deletion is not far enough and deleted data still be recoverable. The core functionality of iPhone data eraser program is "Erase Deleted Data" option that can analyze and scan deleted data and completely smash it.

Note: It provides four options: "Express Cleanup" "Erase Private Data" "Erase Deleted Files" and "Erase All Data" , select right one you need.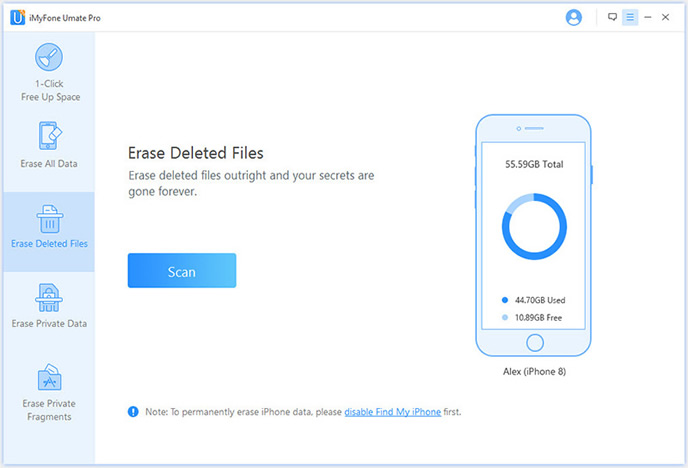 Step 3

Analyze and Scan the Deleted Data on Your iPhone

Click the Start button to start scanning all deleted data on your iPhone. It takes a few minutes to finish the whole scanning profess based on the size of the deleted data. After that, all of your deleted data will be displayed on the panel.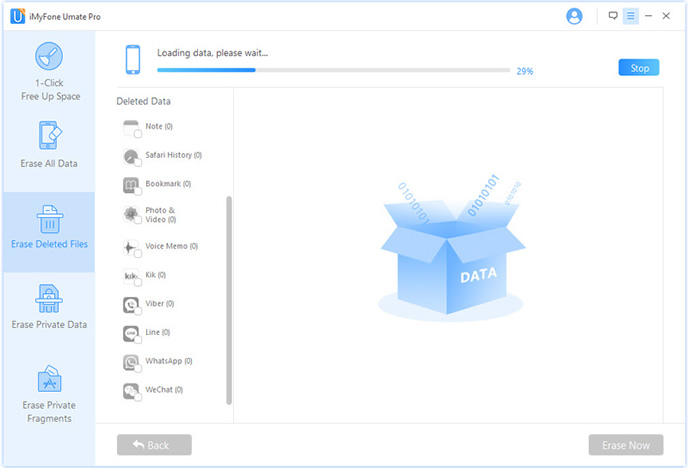 Step 2

Preview Scanned Data and Completely Erase Them Now

After scanning, all deleted data will be found and quite clearly presented with detailed info, like name, phone, data, type. You're allowed to preview the found data and select them you want to smash. During the process of erasing your iPhone's memory, which will take several minutes or even hours depending on the data size of your iPhone , and make sure that your phone is charged with ample electricity or connected with a power source.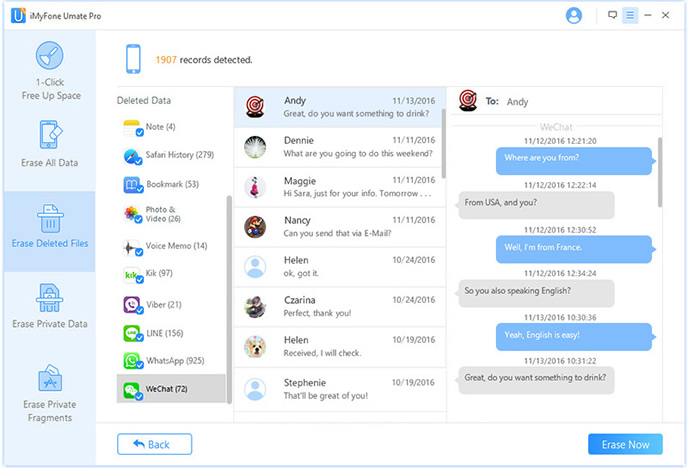 Almost all iPhone internal memory and SIM card are generally used to store the contracts, messages, call history, but professional iOS data recovery program can easily identify SIM card and recover your deleted private data. When you sell your iPhone device to someone else, if you didn't erase iPhone data completely, you may not be aware that you're revealing your identity or private data to a stranger; maybe your private info will be misused. iPhone Data Eraser has the ability to permanently and completely erase your misgivings.