If you are selling an iPhone or iPad, you interested to know the actions to consider before your beloved device marked departure bite block to its new home. These are some simple steps which may protect both your privacy and the proper functioning and full enjoyment of their "new" iPhone by the buyer.
Apple knows very well what their products are coveted and high resale value that they reach in the second hand market, so, with this in mind, have enabled a Web page on your support to make this task easier. There are two things you must do before selling your iPhone, iPad or iPod device.
The First Thing: Make A Backup of Your Device
1) A work that the has become so simple and trivial as: iCloud: Enable iCloud Backup switch on your device and click Backup now. Be sure that you are connected by WiFi and a copy will be made in proportion to the amount of data included in the backup time. 
2) iTunes: Verifying that you have installed on your computer the latest version of iTunes and iOS device after connecting, you must select the File> Device> Save backup. If you doubt the successful completion of the backup, you can see it in the Devices pane of iTunes Preferences.
The Second Thing: Erase Private Data before Selling
Delete the contents of the iPhone device using Settings> General> Reset> Erase All Content and Settings. Here the method branches depending on whether your device has iOS 7 or not. If you are in the last revision of Apple's mobile operating system and have activated the Find my iPhone (strongly recommended option), you will require your Apple ID and its associated password. Both iOS iOS 7 and earlier, what happens next is erasing the device completely and disabling iCloud, iMessage, FaceTime, Game Center, and other associated services. Thus the device will camaraderie and ready for activation, use and enjoyment of the new owner.
However, deleting or erasing content can't be helpful if your device got hands of an expert, many people do not know "deleting" and "erasing all content and settings" can't completely wipe the data on your iOS device, they still be recoverable because the deleted data are not really gone, they just not took up its original location anymore but the data are still intact, in other words, those deleted data are waiting to be written over. To completely smash your sensitive information without recovery, the only way is to try the professional iPhone Data Eraser program, it's fully capable to wipe the everything on your device using secure wiping algorithms for permanent data deletion.
Note: Before wiping your phone, you should seriously make a full backup of your data first, because the deleted data will be erasing permanently without restore.
Step 1

Run the Program and Connect iDevice to Computer

Download and install the program on your computer, Windows and Mac are now available. Then run it, connect your iPhone to your computer via USB, the program will detect the device once it was well connected, you will see your iPhone is displayed on the main interface.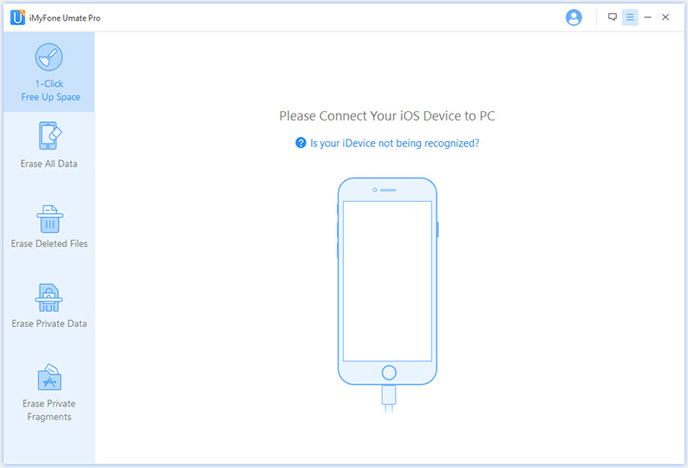 Step 2

Select Correct Erasing Option

After connecting your iPhone successfully, you can see the a menu including 4 options for your different demands

"EXPRESS CLEANUP", "ERASE PRIVATE Data", "ERASE DELETED FILES" and "ERASE ALL DATA". You can simply click the right menu to select the proper option. Here, we select "Erase All Data" for an example.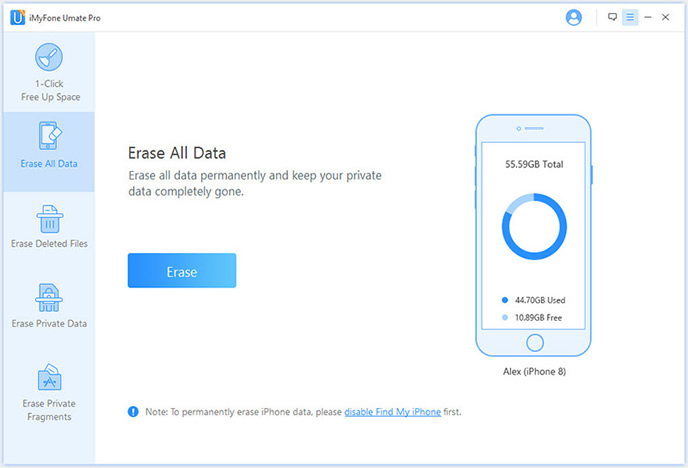 Step 3

Select the Wiping Level

As you can see, the program offers you 3 erasing level based on different erasing algorithms for your choice.

"High Level" will erase all private records of your browsers such as temporary files, typed URL, history, cookies and free up your disk space. it will overwrite your device for 3 times with the U.SDOD 5220.22-M algorithms.

"Mideum Level": This level will overwrite your iPhone, iPad or iPod device for 1 times with thousand of junk files, ensure your files won't be recovered, it can hidden the erasing trace automatically and no now knows you've erased your device. Highly recommend!

"Low Level": Only overwrite your data with Zerous for 1 times. Not recommend!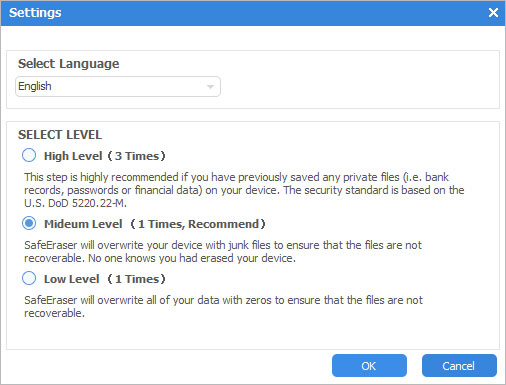 Step 4

Analyzing the Data on Your Device and Start Erasing

After analyzing, all the data will be wiped permanently without any trace, it will take a few minutes to wipe all your data, no one can retrieve the erased data from your device regardless of professional data recovery software. You will get a new iPhone and sell your iPhone or iPad without any concern.

.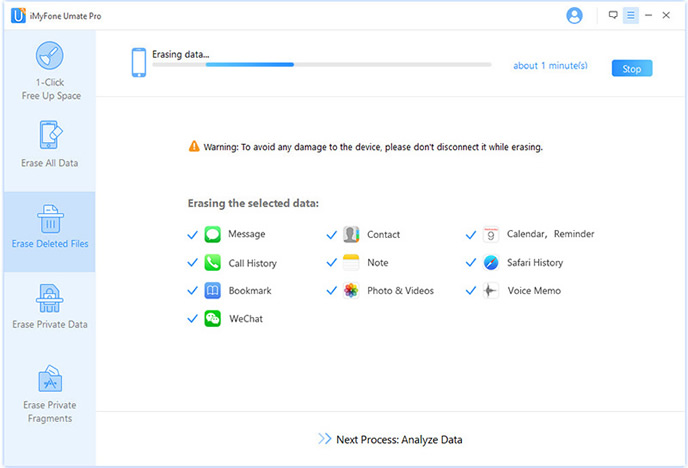 The 'Already Deleted File' still be Recoverable
Don't trust the "simple deletion" and "Erase all content and settings" on you device, such operations will not completely wipe your personal data, they still remain on your phone's storage system and be recoverable. iPhone Data eraser program can scan all "already deleted file" from your device. If you are still using your iPhonr or iPad but need to ensure previously deleted data is unrecoverable, we highly recommend to try this program to scan your iPhone and iPad. Take a look at this article about how to erase contacts, messages and photos on iPhone.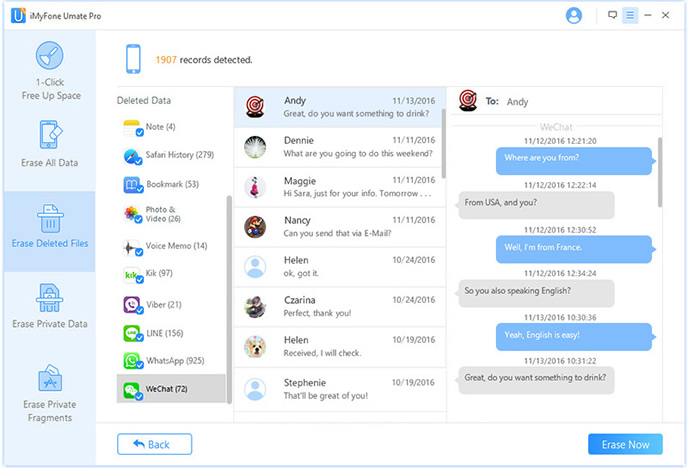 That's all, as you can see above, when you intend to sell your iPhon, iPad or iPod device, it's not far enough to simply delete the data on your device. You must completely smash your sensitive information. Safewiper Data Wipe for iOS application is far enough to stop any recovery tools from uncovering your personal files but remember that you should platform erasing operation for more 3 times to make making them irrecoverable permanently.